Catedrais Beach — Hole 17: Par 5
By
Golden Tee Fan
• Category:
Catedrais Beach
•
It can be tough with some setups, but a high-teed 10.5 driver hit well can still carry up onto the plateau to the left.  Going up top, as usual, gives you the advantage of a straight shot down into the green.  Distance is important too, since it can be tough to get an approach driver to the green with a headwind.  As usual, long and straight up on the hill is key to give you a good chance!  To give you a guide to cross-winds, a 13 wind with a 6-wood calls for one click over, and a 15 wind with a 4-wood also calls for one click over.
From the top of that hill, this 3-wood fights the wind to find a front pin.
Another option is left to the sand, but you do have to be as close to the green as you can get to have enough club for your approach shot.  Going left to the end of that fairway is also an option for you to bring in a driver from there.
There's another tee box you get about 5% of the time right now out to the right, and from here you just blast up the main right fairway.  From there it's either a straight shot or wrapping a C3ish approach around the hill into the green, which is tough because it slopes 10 towards the water.  Here's a 3-wood hole-out from there.
One new tee box is to the right, where you should play up the right fairway and hope for a mostly straight approach into the green from there.
Another new tee box is left in the sand area where it just makes it easier to play up on the hill straight ahead.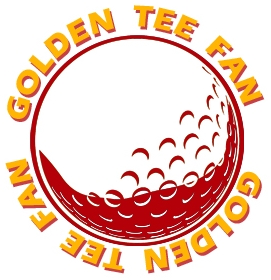 Golden Tee Fan is a Golden Tee addict from Chicago, IL, thirsty for tips and tricks!
Email this author | All posts by Golden Tee Fan