Catedrais Beach — Hole 18: Par 4
By
Golden Tee Fan
• Category:
Catedrais Beach
•
Some setups here can be really tough, because you can face distance challenges as well as finding the right cut.  You'll be coming in left-to-right usually, so angle is important.
A common mistake I've seen early is to come up short, and then compound the issue by using bite or backspin, which pulls your ball into the water.  I like to float a shot into the green with no spin since it will already be veering right anyway…then you can focus on distance and the right curve…a high tee makes this easier to pull off.
From the left side of the box, here's an easy driver punched fairly straight through that finds the hole.
From the center of the box, here's a smooth 4W curved around to finish with the ace!
With the wind blowing left, you can get away with certain deflections as the wind will keep it on the green, or even in the hole!
From the right side of the box, this hole is nasty.  You may consider trying to skip a low-teed driver around the right side with backspin as an option to reach the green.  The 290 driver or 3W teed low will both skip with enough curve.  Otherwise you might lay up in the right fairway and try to just salvage a birdie.
Given that the right side asks you to carry water and there's trouble all around, it's still usually best from the right side of the box still to play the left gap, albeit with more of a cut.  Here's a great 4-wood that curls around to a back pin.
One new tee box is an elevated approach from the right from about 270 yards where you just need distance control to float the ball into the green.  Here's a 5-wood floated into the cup.  And with a tough wind, here's a cut shot that finds a right pin.
Another new box off to the right makes you cut the ball around the right into the green, sometimes considering a bank shot to stick it.  But this 6-wood was a perfect play for a finishing ace.
A third new box is just in front of the original left box…check out this high 6W that floats down off the rough into a right pin.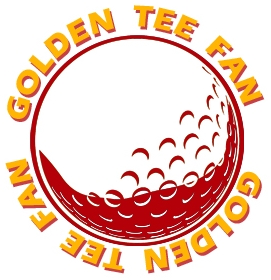 Golden Tee Fan is a Golden Tee addict from Chicago, IL, thirsty for tips and tricks!
Email this author | All posts by Golden Tee Fan