Catedrais Beach — Hole 2: Par 4
By
Golden Tee Fan
• Category:
Catedrais Beach
•
From the front box with a strong tailwind, you can drive pretty close to the green here and have a chip at eagle.  Big hitters using Streaks may occasionally make it on this green.
Otherwise, you're playing to the fairway where it narrows…towards the left of this area is where you want to land your ball for a clear open approach at all times.  From the fairway neck, here's an example hole-out.
Beware the left water on the approach which can gobble up an errant approach to a left pin!
One new tee box here is front-left but still 400+ yards away, making it difficult but possible to reach with certain conditions.
A second new box is back-right on top of the hill from 460 yards.  What's interesting here is it's actually a safer play to hit straight ahead on top of the hill, which has a very wide landing area…much more so than the narrow fairway neck.
Another new box is up right well within reach of 250 yards or so but asking you to play a difficult cut shot around the hill into the green, avoiding the water on the left.  Here's a nice high-teed 5-wood worked around the corner that finds the hole.  And this one shows that you can cut the corner a bit over the second hill with that club.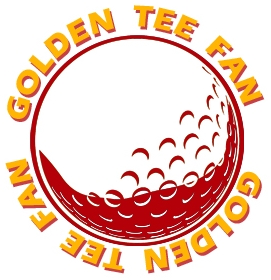 Golden Tee Fan is a Golden Tee addict from Chicago, IL, thirsty for tips and tricks!
Email this author | All posts by Golden Tee Fan