Catedrais Beach — Hole 5: Par 4
By
Golden Tee Fan
• Category:
Catedrais Beach
•
The addition of a more elevated hump in the middle of the main hill guarding the green added some challenge here, so you might have to work around it, but the concept is still the same.  From the back boxes, it's best to high-tee a 5W or 6W and aim right at the green by carrying over the top.  From the back-left box, this high 6W goes over the top right at it.
From the back-center, this high 5W carries over the left edge to find the hole.  Of course, curving is still an option…here's a great 5-wood cut around the left to a front pin.
From the front-right box, a high 8W can be good over the top, or perhaps a high 7W too.  Sometimes here you might have to hit a 6W (medium or high) and play a curve through the gap on the right, which is the toughest setup…this medium 6W with backspin works its way through to find the cup.
One new tee box here is up right behind the first hill, which almost shuts this hole down.  There's not much you can do to curve a shot through the gap from here unless you have a helping wind to the left.  Laying up is a good option to at least take a birdie here.
Another new tee box is up left from about 260 where a high 6W is good if you hit it firm, but softer hits won't clear the hill.  I've even hit the hill with a firm high 7W, so the safer play here might just be around the left of the hill instead.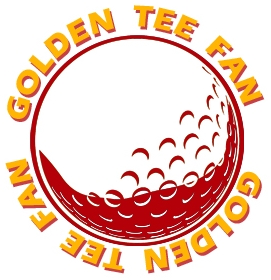 Golden Tee Fan is a Golden Tee addict from Chicago, IL, thirsty for tips and tricks!
Email this author | All posts by Golden Tee Fan