Pembroke Links — Hole #10: Par 4
By
Golden Tee Fan
• Category:
Pembroke Links
•
Here's one of the toughest approach shots in the game, because you have to carry a shot downhill into a small, tiered green…it's very challenging to stick the green near the hole for a birdie putt.  One thing you might consider is laying back off the tee for a lower-lofted approach and perhaps more distance flexibility to counteract the wind.  Then again, other players prefer to be closer to the hole, but that brings a 6/7/8W shot into play from the first fairway.
It's the same problem if you try to blast down into the second fairway or down in that rough…this is fine, but you'll have a higher lofted club and more of a potential gap problem in your club set.  That is somewhat counteracted by not having to shoot as far downhill, so it's up to your preference.
Bite is a good option for pins on the upper tier, and backspin can be fine for the lower tier since the tier can act as a backboard.
After laying up top with the drive, this 8-wood trickles down into a back pin.
There is a new tee box up to the right from about 390 yards that makes this hole drivable at times!  Here's a great driver with backspin that settles into the cup.
There's also one from the left at 400+ yards that allows you to get there with a decent wind…check out this big C3 driver that works down into the hole!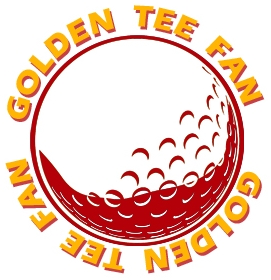 Golden Tee Fan is a Golden Tee addict from Chicago, IL, thirsty for tips and tricks!
Email this author | All posts by Golden Tee Fan