Pembroke Links — Hole #8: Par 4
By
Golden Tee Fan
• Category:
Pembroke Links
•
Here's a great hole that sometimes changes GT Par…with tough setups it's just a layup in the main fairway anywhere.  Sometimes birdie can actually gain a stroke on the field with other players getting in trouble with the sand or water.  Here's a dunk from the fairway to come away with an eagle.
However, I will say that with the right equipment, you really can almost always get there.  Streaks are of tremendous value.  With a tailwind or some cross-winds, the 10.5 driver carries straight at it.  With headwinds, the 8.5 driver cuts through better and can still carry it with Streaks, again right at it.
You could try a C3 or A1 for extra distance…the only "problem" is that it can be very difficult to hold the green.  You need a high tee, so it's hard to stop the ball on the green sometimes.  Still, having a chip at the hole is better than laying up!  Finally, the front sand bunker is tough…make sure you have a lob wedge if you're bringing that into play.
From the right box, here's a driver dunk for the ultra shot!  And here's a big A1 that finds a back pin.  With shorter looks, a 3-wood can even carry…this one backspun into a right cup!
There's a new tee box to the back-right where you can still reach the green with a decent wind but would need to lay up with a tough headwind.
Another new tee box is to the front-left where it's only about 310 yards into the green, making for a much easier eagle.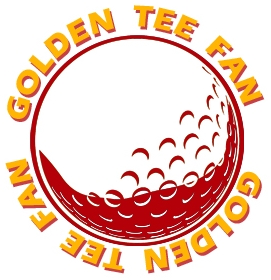 Golden Tee Fan is a Golden Tee addict from Chicago, IL, thirsty for tips and tricks!
Email this author | All posts by Golden Tee Fan