Pembroke Links — Hole #9: Par 5
By
Golden Tee Fan
• Category:
Pembroke Links
•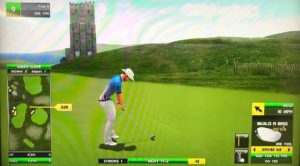 Driving out to the right where you land behind the first half of that sand trap (important so you don't bring the hill into play) in the fairway presents you a great look, slightly downhill, with driver into the green, especially with the pin in the back right.  This is a terrific option especially with the wind blowing left.  Don't get too close to the sand because the fairway slopes that way and you can't make it from the rough.  This driver finds the hole for double eagle.
Another option, especially if the wind is blowing right, is to hit to the left fairway, short-left behind the smiley-face traps.  The wind will help with your approach shot into the green from there where it's uphill with a 3W or 10.5 driver.  This driver bounced up the hill into a headwind to find the cup, and this 4W works its way up the hill to the hole with a tailwind.
The right-end of this fairway can offer a short shot around the right side of the tower as well — here's a 7-iron that finds the hole.
Finally, playing out to the back-right end of the left fairway can give you an 8W approach.  I don't know that this is repeatable, but check out this amazing 8-wood punched through the window after a drive straight ahead towards the tower!  Here's another one punched through with the 4-wood.  Again, this shouldn't be necessary if you line up your drive correctly.
There is a new tee box way back-right that shouldn't impact your strategy off the tee.
There's another new tee box way out left where, depending on the wind, you can play out left to the rough over the river.  From here it's a fairly short, unimpeded uphill shot to the green.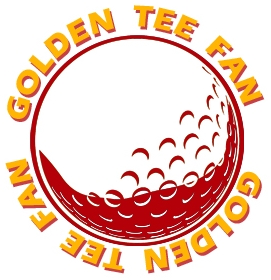 Golden Tee Fan is a Golden Tee addict from Chicago, IL, thirsty for tips and tricks!
Email this author | All posts by Golden Tee Fan