Priming for Golden Tee 2019!
By
Golden Tee Fan
• Category:
2018 -- Golden Tee Live 2019
,
Features
•

It's that time of year again to get pumped for new courses and features, and you can find links to everything new here — check back often as more news is released regarding Golden Tee 2019…the 30-year anniversary!
Now, the courses!  They look fantastic, as usual…click the links below to get much more detail on the new offers for 2019:
Agave Ranch
Beals Creek
Catedrais Beach
Pembroke Links
Sandhill Woods
In addition to the 5 new courses, we're hoping to get a chance to play two more reimagined courses from the Golden Tee Fore era…stay tuned!
Time-released tee boxes were a big hit in 2018, so we'll assume to have those again in 2019 as well.
There are three new club sets to help in 2019!  First is a low-lofted set called The Stinger.  Next is The Seeker which introduces a new chipping wedge.  Finally there's the World Champ 2019 club set from Evan Gossett.
There are also new virtual balls available in 2019 – check out details on the Gripper and the Rainmaker.
Fashion Fridays are back…here's a batch of new American-themed clothing.  And some other fun options are for sale early if you can't wait!
In addition to the always creative clothing options, there are 18(!) new new custom putters added for 2019!  Check them out here: 8-bit, Saxy Time, Moby Dick, It's Lit, Shredder, Hocus Pocus, Atomic Drop, The Initiator, Get Bent, Axe-Kicker, Pop-Pop, and more coming…you can find them all in the GT Caddy app.
There's a new play mode in Casual Play called Real Time Rivals, which brings John Daly into the game and lets casual players see how they stack up against different skill levels!  Here's a preview video of this new mode of play.  And here's an introduction to the characters.  For more detail, check out the bios on Duffer Dan, Sandy Hazard, and others to come!
Another new exciting mode of play is called Events Mode, where players will face unique conditions or offerings never before seen…this should be a fun way to shake things up!
To give you a chance at more Great Shot Points, we now have the "Ultra Shot", worth double the points if your ball dunks in the hole without bouncing in!
Another great update is additional data on YouTube replays, so you can see the conditions and the execution of the shot to help you learn and improve!
We aren't getting other popularly-requested features this year (no chipping on the greens, no driving range), but once again Golden Tee has lots for us to be excited about heading into late September and the 30th anniversary release!
Check out this guide to navigating the GT Caddy App for 2019.
Finally, check out this dated guide to time-released content to appear over the coming months!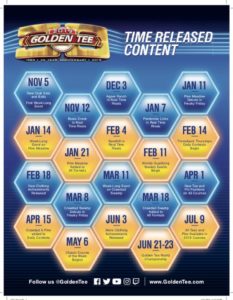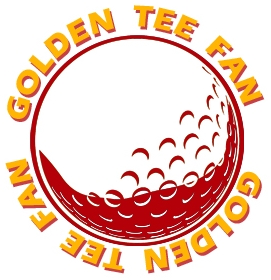 Golden Tee Fan is a Golden Tee addict from Chicago, IL, thirsty for tips and tricks!
Email this author | All posts by Golden Tee Fan