Sandhill Woods — Hole #14: Par 4
By
Golden Tee Fan
• Category:
Sandhill Woods
•
Here's another hole where the low-lofted clubs come in so handy; there's always a shot under/through the trees with them.  Just know that you really need to use a low tee to better ensure a skip off the water if needed.
From the front box, a low 2H is a good option (or low spinny 2-iron).  This medium-teed 2-iron carries through and finds a left pin.  And this low-teed 3H barely clears and hops up to find the cup!
From the center box, here's a low-teed 3W thumbed through that finds the hole.  The 0-hybrid or 1H is great from this box too, especially low-teed if needed to skip the water.
From the back box, it's often a low-teed driver (a lower lofted one if you have it)…this can either skip or carry the green.  Here's a low-teed driver that carries and one-hops into a back pin.
There are other setups where the wind is blowing to the right where it might be worth it to float a wood around the left side of the trees into the green…this is not a bad option, and the club depends on the box.
There's a new tee box left-center of the original three that takes the low-center shot out of play and forces you to play up and over the left side of the trees, usually with a high wood.
Another new box is front-left of the original boxes and can be a nice high-teed 8-wood curved into the green.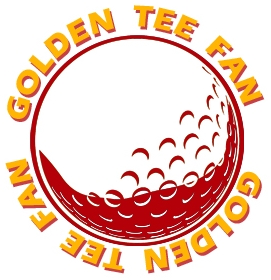 Golden Tee Fan is a Golden Tee addict from Chicago, IL, thirsty for tips and tricks!
Email this author | All posts by Golden Tee Fan