Sandhill Woods — Hole #15: Par 4
By
Golden Tee Fan
• Category:
Sandhill Woods
•
From the left box, you should only consider trying to drive the green with a strong outwind towards it…with that, a high-teed driver can carry almost all the way up, but might get a friendly bounce up and on for an eagle putt.  Check out this high-teed driver carry to the hill, bouncing up and in!
With other winds, just lay up.  Here's a hole-out from the fairway.
From the center box, there are more options, again dependent on a nice helping wind.  Here's an amazing high-teed driver around the left that hits short and pops up into the cup!  Using the right side, here's a huge driver that finds a back-right pin.  Here's another one with extreme cut through the trees to a left pin!  And you can even take straight aim at the green if you look for a dip in the top of the trees, as a high 290 driver can clear certain spots.
From the far-right box, you're cutting right-to-left through a gap in the trees at the green.  Here's an incredible low-teed driver cut through the woods that curves back in the hole!  Here's another medium-teed with roll that bounces up and in.  If you have an 8.5 driver, you can high tee that one for extra distance to carry up to the green.  Safest play is a medium tee perhaps with roll to help try to get up the hill onto the green, although you might have enough club with some looks to carry and use backspin instead!
One new tee box is between the original right and center boxes where you can carry a 10.5 driver or 3W with a high tee over the top of the trees at the green!  Another option is to try to find a gap between the trees at the hole — this driver almost aced it.
Another new box is behind the center and left boxes where you can also carry a 10.5 driver or 3W at the green, or curve a high-teed driver with an A1 hook around the left side to try to get up there.  But with a head-wind, you'll probably need to lay up.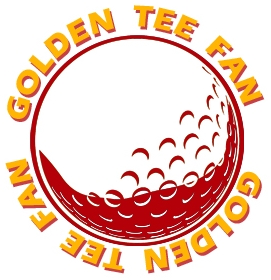 Golden Tee Fan is a Golden Tee addict from Chicago, IL, thirsty for tips and tricks!
Email this author | All posts by Golden Tee Fan