Sandhill Woods — Hole #7: Par 5
By
Golden Tee Fan
• Category:
Sandhill Woods
•
Three or four layup spots here for consideration.  First, if you're concerned about your accuracy off the tee, there's no need to stick any fairway island…you can play straight ahead to the end of the first fairway.  From here it's 300-320 so a hard 3W or moderate 10.5 driver is a nice 2nd shot.
If you prefer to be closer, play out to the longer right island…it's fairly flat (slopes downhill slightly) so be careful not to carry too far down the center of the landing area.  Same approach shot works from here but it's slightly closer.  You can also skip the 0-hybrid here up onto the green…check out this hole-out!
The long-left island is the third option but carries the most risk of a miss.  Landing here offers a more lofted wood, which is nice but not really necessary.
Finally, it might be an option off the tee to play a high-teed C3 or A1 driver to carry the water into the rough, but you've got to be certain you can make it.
The approach to the green here can be tricky!  It's uphill so I see a lot of players come up short, especially with a headwind.  A tailwind you can play like normal, but make sure to hit it firm with other winds to carry up and on…short shots bounce back in the water!
One new tee box here is in the front-left, offering a chance to drive out to the second fairway, or at least on the upslope of the hill on the rough, which is a nice approach shot.  Of course, all the original layup shots from before are options too if that makes you more comfortable.
Another new tee box is in the front right, offering basically the same advice as above.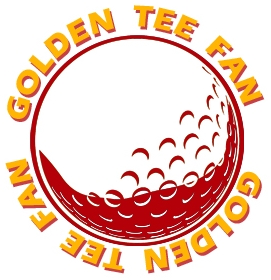 Golden Tee Fan is a Golden Tee addict from Chicago, IL, thirsty for tips and tricks!
Email this author | All posts by Golden Tee Fan