Sandhill Woods — Hole #9: Par 5
By
Golden Tee Fan
• Category:
Sandhill Woods
•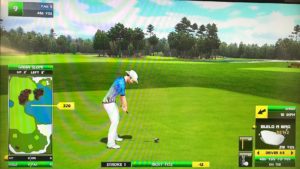 Another well-designed hole with many options depending on the setup!  Let's start with the front-right box…first, there are rare setups where you may be able to drive the green — check out this massive C3 that somehow gets there!  If that's not your game, there are two good options depending on wind and pin – first is the small middle fairway between the bunches of trees…this is a good option if you can drive far enough for a clear second shot.  Next is the sand to the right over the water – you can plop a drive in here and have plenty of distance to reach the green in two.
From the front-left box, the best option always seems to be playing to the left fairway, where you can drive far enough for a clear second shot into the green.
The back box can be a brutal setup, especially with a wind in your face.  Often the best option here is playing out to the rough/sand on the right again, but it's two tough shots.  Your drive is key because you need to clear as much water as possible, landing as close to the green as possible, with a high-teed driver.  Assuming you pull that off, you'll still have a long shot into the green where you need a solid hit, sometimes again with driver, to clear the water into the green.  Here's a nice approach shot from that area.
The alternative is the narrow fairway to the left, but that approach shot is really intimidating too – you have to curve a perfect A1 over water and try to stick the green, which might not be worth the risk.  Don't get wet; take your birdie if you need to!
One new tee box here is in front-left of the original front-right box, from only around 370 yards out, making this par 5 drivable especially with a nice wind!
Another new box is in the front-right of the original front box, offering a straighter look at the green but from a bit farther away at 385 yards or so…still drivable with a decent wind!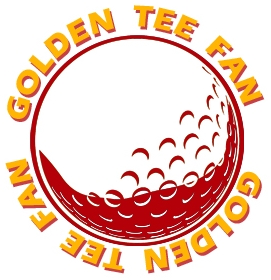 Golden Tee Fan is a Golden Tee addict from Chicago, IL, thirsty for tips and tricks!
Email this author | All posts by Golden Tee Fan