Here Comes Golden Tee 2020!
By
Golden Tee Fan
• Category:
2019 -- Golden Tee Live 2020
,
Features
•

Golden Tee 2020 Preview time is here, with ship-day set for September 23!  Let's get right into the courses: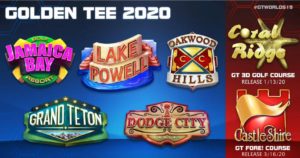 Using the links below, you can skip ahead to the course overviews for any new 2020 course:
Jamaica Bay
Grand Teton
Lake Powell
Dodge City
Oakwood Hills
Coral Ridge
CastleShire
Also, they had a demo machine set up at Worlds in Vegas, and there are two feeds below showing off the new courses.  Keep in mind that only Casual Play was available, which drastically affects difficulty, and that Jim Z. has already made many course alterations since that time.  But still, it's fun to see the general layouts and designs!
2020 Demo Feed 1
2020 Demo Feed 2
And here's a fun preview of the 2020 Design-A-Hole on Jamaica Bay.
Next up is a preview picture of what's coming with new GT clubs and balls in 2020…more to come as it's released!  No news yet on the balls but here's a run-down on the club sets.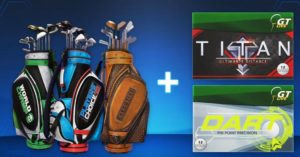 Custom putters have been so popular that we're getting 22 more new options in 2020!  First up is Sammich and The Kabob.  Next is My 2nd Putter and Rawr.  The third preview set includes Reel'n In and Ear Candy.
Tee boxes have been overhauled in GT 2020!  From what we hear, there will be dozens of different possible looks on each hole, with the tee box floating all over the place.  While the variety will be fun, it certainly might make it more difficult to know what clubs you need in your bag for each course!
Six new Real Time Rivals have been added to this mode of play — read about them here!  Rivals mode is now online as well, meaning you can use your own player, equipment, and earn prizes by beating rivals and working your way up the ladder.  You can also see a Rivals demo of Dodge City and Jamaica Bay as Kevin Lindsay faces off with John Daly for a couple rounds.
Another big change is the format and payouts for Closest to the Pin, which now pays out the top 20 players in a 50-person contest ($10 first prize) based on TOTAL DISTANCE over all 9 holes.  This giant change will cause you to play more conservatively on some holes to try to make sure you stick the green and don't blow up your distance with a shot in the rough, sand or water around the green.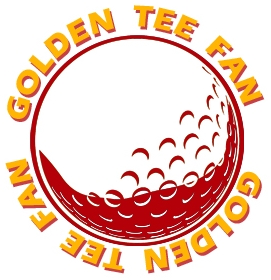 Golden Tee Fan is a Golden Tee addict from Chicago, IL, thirsty for tips and tricks!
Email this author | All posts by Golden Tee Fan