Customize your Golden Tee golfer
By
Golden Tee Fan
• Category:
Customize your golfer
•

Golden Tee Live allows you to customize your golfer's appearance however you wish! When you play rounds using your player ID, you earn new articles of clothing at specific milestones along the way! Your golfer is rewarded with a new item for every 5 games you play and for every 30 birdies, 10 eagles, double eagle, and hole-in-one you shoot! The game will tell you when you've earned new clothes and what you've won, and then you can go to the game options to dress up your golfer! Here are all the areas of customization in 2008 Golden Tee Live:
Gender: Pick male or female!
Face: Pick your skin color and facial style!
Shirt: Dress your golfer with your favorite shirt!
Bottoms: Choose which pants, shorts, etc. you want your golfer to wear!
Headwear: Choose a hat, visor, headband, or other crazy item to put on your golfer's head!
Shoes: Choose from a variety of different shoe styles to put on your golfer's feet!
When you first get started, you'll have options in each of these areas, but the choices will be somewhat limited. Playing several rounds of Golden Tee with your Player ID earns you all kinds of crazy fun clothing that you can throw on your golfer, such as a tuxedo or biker chaps, or even a sombrero, top hat or paper sack on your head! At any time during the round, you can change your golfer's appearance!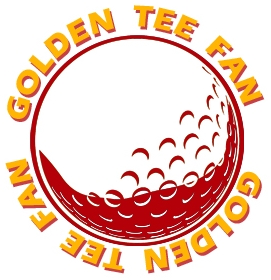 Golden Tee Fan is a Golden Tee addict from Chicago, IL, thirsty for tips and tricks!
Email this author | All posts by Golden Tee Fan