Glacier Ranch — Hole #4
By
Golden Tee Fan
• Category:
Drivable Par 5s
•
This always-drivable par 5 from GT Live 2007 was the first of its kind, and it provided an exciting opportunity to put up a big front 9.
Most players have the best success driving this green by hitting a smooth driver straight through the gap in the trees at the green, where it should bounce up and settle.
I have also had a lot of success lining up with the center of the green, using my 3W, pulling back slightly left, and ramming it out left just around the leftmost tree. This takes the gap out of play.  With backspin on the Streaks, it hits the front of the hill and hops up on the green for the DE putt. The only time I struggle is when it's 300 yards into the wind…then sometimes I can't get that shot to hop all the way up. So here is when you'd default back to the driver shot.
Here's a super albatross ace through the trees!
Straight through is certainly the traditional route at this green, but check out the curve on this 4-wood — amazing!  A shorter cut shot around the trees is more traditional, such as this great 3-wood.
This 3-wood somehow stayed under the trees and carried the green, trickling back and in!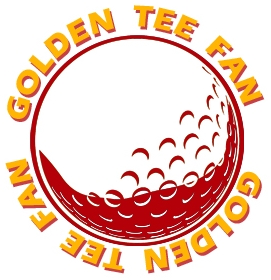 Golden Tee Fan is a Golden Tee addict from Chicago, IL, thirsty for tips and tricks!
Email this author | All posts by Golden Tee Fan