Bella Toscana — Hole #14: Par 4
By
Golden Tee Fan
• Category:
Bella Toscana
,
Featured Holes
•
Believe it or not, this hole is driveable from almost any setup.  Read on!
If you're on the far right box, a 5-wood can get over the corner of the house to the green with a minor C3-type shot — here's an example. Better yet, if you're towards the back of this box, the 5-wood goes straight over.
If you're on the middle-left box, you can take a 5-wood, or even a 4-wood, pretty much straight over towards the green, or with a small curve around the corner.
From the back box is where you get creative.  The most common way of attacking the green from here is to rotate left and play an A1 driver with roll around the corner, skipping across the water if needed!  Or you can still try the traditional route, where a driver can get under that last tree and skip onto the green, like this amazing shot!
Even if you don't think you can reach the green, try to get your drive on the hill towards the back-right of the green.  You can sometimes get lucky and kick towards the green, but even if you stick up on the hill, you can often times putt from up there!  Check out how this shot rolled back down the hill into the hole!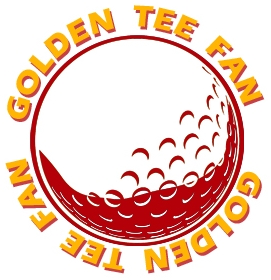 Golden Tee Fan is a Golden Tee addict from Chicago, IL, thirsty for tips and tricks!
Email this author | All posts by Golden Tee Fan