Bella Toscana — Hole #5: Par 5
By
Golden Tee Fan
• Category:
Bella Toscana
,
Featured Holes
•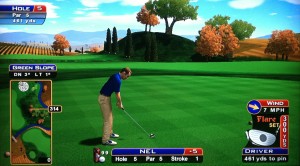 Most guys are always laying up in the same spot, every time, on this hole.  It's towards the end of the fairway, just left of the orange bush straight ahead.  From here, you can hit either a 3-wood or 4-wood over the hill and under the tree on top of that hill right at the green!  Here's an example hole-out with a 4-wood from that spot.  You can carry more distance on this approach because it plays slightly downhill, so your 3-wood can usually carry 300 yards without issue.  Just make sure you don't go too far and end up in the rough — it's better to be back just a bit in the fairway than too long!  Or, if you get just a bit too far left for your liking, you can still go the traditional route around the left — here's a nice 3-wood.
If the pin is in the back left, or if there's a strong headwind, you might consider laying up in the rough to the right just over the water.  You can either hit a straight shot or an A1-type shot into this area off the tee.  The approach shot is not as tough as you might think from here, because the rough seems to be "thinner", allowing you still to shape a shot without losing much distance.  Still, be careful of the elevation and the hill guarding your approach, because short or right can mean water!  This tee shot got far enough to have an unimpeded shot under the tree!  And this one was way out there but almost had trouble with the elevated green.  Finally, check out this unbelievable roll up and over the hill!
The conventional route is to the left edge of the fairway, but this leaves the most difficult approach shot, because you have to shape the shot and also avoid the thin trees guarding the green.  Here's a great 5-wood from there!
Finally, if you're fortunate enough to get a tee box that allows you to carry the water to the second fairway, you can end up with a very easy approach shot for eagle!  From the tee box on the left, you can sometimes carry the water — here's a 5-wood hole-out after clearing the river.  Don't expect an A1 driver to clear the river easily though — that wall can certainly block a low-lofter.  Also, there's another much closer tee box up and left from here (normally only available in casual play, but it can come up in live play!).  Here's a hole-out from there after the drive. This tee box may also make this hole driveable!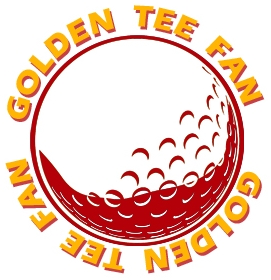 Golden Tee Fan is a Golden Tee addict from Chicago, IL, thirsty for tips and tricks!
Email this author | All posts by Golden Tee Fan