Monument Valley — Hole #5: Par 5
By
Golden Tee Fan
• Category:
Featured Holes
,
Monument Valley
•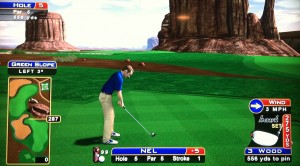 This is a tough eagle, especially being a par 5 on the front 9!  You'll want to get your tee shot out far and left towards the end of the fairway, but that's not so easy to do.  The best way is to play a C3 shot so that you're heading to your landing area from the proper angle.  Blasting a straight B2 doesn't always work, because being short or long puts you in the gully, and you may not be able to get it as far left as you like.  Practice the C3 shot off the tee here to see how much angle you need to apply in each unique situation.  Even roll, backspin, or nothing will vary depending on your tee box and the wind.  It's okay to be a bit aggressive, because if you don't get far enough left, it will be much harder to cut a shot into the green.
From there, you'll be cutting an A1-type driver shot through the rocky gate towards the green.  Other shots will have to be smoothly shaped through the gap.  For best results, picture the shot in your head.  First apply the cut that's needed on your backswing, and then determine how much towards A you need to shoot to safely clear the gap.  Remember that full A1s add distance to your shot, so use your thumbs to control that.  Finally, picture whether or not you need backspin to hold the green from that angle.  This is a tough shot, so keep practicing!  Check out this ridiculous dunk.
I bet you never considered going through this gap on the top of the gate!
Another more difficult option is to lay up to the right and come around the right side of the mountain.  You'll have another hill to deal with by the right side of the green, but check out the awesome kick that this ball got! Here's a clean, sick look from there, giving you something to consider if the tee box and wind make the normal route tough!
There's also a tee box out left (only available in casual play) that allows you to carry into the second fairway for an unimpeded approach shot into the green in 2 — here's a hole-out from there.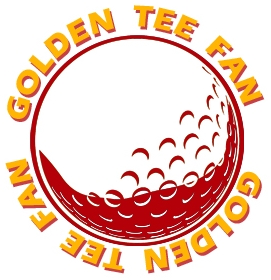 Golden Tee Fan is a Golden Tee addict from Chicago, IL, thirsty for tips and tricks!
Email this author | All posts by Golden Tee Fan