Monument Valley — Hole #9: Par 4
By
Golden Tee Fan
• Category:
Featured Holes
,
Monument Valley
•
From the front box, you'll want to cut a driver or a 2-iron underneath the rocky gate towards the green.  Use backspin, and you will often be skimming over the the hill in front of the green, but it won't stop you from making the green.  Just try to control your distance, especially when using driver.  Here's one that deflects perfectly towards the pin!  Another option is to go to the left of the gate if the pin is on the left side of the green — here's evidence that a 5-wood can go under and around, still getting back to the pin!  If you're any farther back in this tee box, though, don't try the 5-wood — it won't get under.
Here's a driver underneath from the front of the back box.  Another note — those coyotes can be in the way if you're skimming along the top of that rock, and you can get unlucky by hitting one and having your ball shoot off in another direction.  That sucks, but don't go out of your way just to try to avoid them, because hitting one is rare.  This one actually went right through two of them and after a couple skips dunks in a back cup!
From the middle or back of the back box, you can pound a 5-wood right over the top — here's an example! If you're worried about clearing the top, you can still cut a driver through the gap.  Backspin or not depends on the wind and the pin placement.
Finally, there's a tee box way out left (only available in casual play) that offers you a straight shot at the green — here's a hole-out with a driver from there.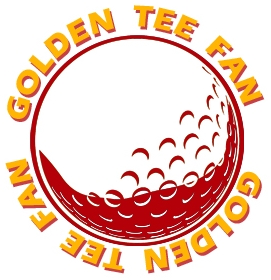 Golden Tee Fan is a Golden Tee addict from Chicago, IL, thirsty for tips and tricks!
Email this author | All posts by Golden Tee Fan