Southern Oaks — Hole #16: Par 3
By
Golden Tee Fan
• Category:
Featured Holes
,
Southern Oaks
•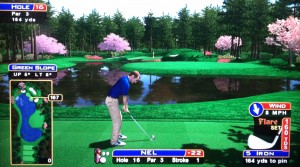 This is a really tough par 3 that most of us aren't going to be able to birdie on a regular basis.  You have to have a low-lofted club, and you usually have to cut into the slope of the green, or else you're going to be wet.  In fact, if it weren't for this hole, a lot more people would be playing the club set with a 7-wood and 9-wood!  Most of the time, you'll want a small A1-type cut shot with backspin, so that the backspin helps the ball up away from the water.  Here's a great shot from the middle box following this lead.
There are exceptions, depending on wind, rain, and pin placement, so study the setup.  For example, here's a great hole-out from the back box with backspin, shot right at the hole, that settles perfectly in the hole because of how the rain kills the roll in 2010.  And here's a hole-out from the front box that worked with the pin on the back left, where the ball worked its way towards the flag.  Finally, here's a hole-out from the middle box, where the wind blowing to the right helped keep the ball on the right side of the green.
If you're stucking playing a 7-wood into this green because you don't have low-lofted clubs, then you might have to get creative.  Clubbing up to a 5-wood and playing a 3/4 cut shot into the green is one option.  Another is to try to settle in the bunker closest to the pin with the intent of chipping on and putting for par.  Neither of these options is easy, and it's still hard to keep a chip shot from rolling into the water.  This hole is most devastating with a big right-to-left wind, which makes it incredibly difficult to hold the green either off the tee or with your chip!
Here's another tip offered up by Hotrod:  "If you have a strong wind blowing left and the distance has you at a wood, turn right one from the pin. Pull straight back to B, maybe a little left, then throw it out to the 1 with backspin. It will talke a few tries to figure out the distance but it will work great. The way you are throwing it with backspin will make the ball spin up the break of the green."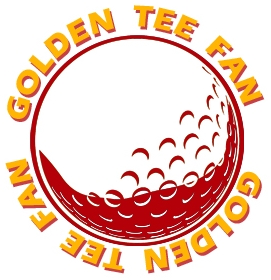 Golden Tee Fan is a Golden Tee addict from Chicago, IL, thirsty for tips and tricks!
Email this author | All posts by Golden Tee Fan