Previewing Golden Tee 2013
By
Golden Tee Fan
• Category:
2012 - Golden Tee LIVE 2013
,
Features
•
It's every Golden Tee lover's favorite time of year — the preview and ultimate release of another year of Golden Tee courses and features! As usual, we can expect the upgrade to happen towards the end of September — but select locations already have GT 2013 in pilot mode.  This site is your source for demo videos and tips on all the new courses!
I've got pictures of each hole for reference — keep checking back for tips, tricks, and YouTube shots for each of the hole posts as we learn how to navigate our way around the 2013 courses.  Here are some shots of the 5 new courses, and some additional screen shots too.
New courses always take center stage, but what else is new with Golden Tee 2013?  Graphics are always important, and players constantly crave a more realistic and lifelike look to all features of the course.  Improved technology has allowed IT to make significant strides in graphics upgrades this year — read more about it here!
There is also a new camera angle called "CupCam".  This should provide a more exciting view of your approach shots, especially those that are tracking close to the hole — read more about it here.
The theme music was changed, which is kinda fun — check it out here.
As usual, there is new equipment to choose from this year.  You'll find three new options for your virtual golf ball — read about the balls here and consider giving them a try.  And there are two new sets of virtual clubs — read about the clubs here and give them a try as well to see if they offer any consistent advantages on this year's courses!  I will certainly gather feedback from the player community on the new clubs and balls and offer up advice on whether or not these new options can help your game — we'll see if they are intriguing or exciting enough to replace the very popular Hurtle balls and the Flare and Hawk clubs.
And new clothing is fun too, as I always enjoy winning new apparel when a new season starts!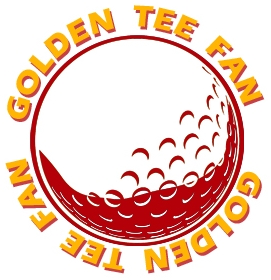 Golden Tee Fan is a Golden Tee addict from Chicago, IL, thirsty for tips and tricks!
Email this author | All posts by Golden Tee Fan