Falcon Set (Formerly 2009 FT i-brid set (Tough Lies/Tall Grass))
By
Golden Tee Fan
• Category:
Golden Tee golf clubs
•
This set of clubs introduced in 2009 Golden Tee features hybrids, which are favored by many players including myself!  This is as close as it comes to the "old birds", the hybrid set from 2005.  Here are the golf clubs included in this set and the relative distance:
FT-i driver (10 degrees): 300
3 Wood: 275
5 Wood: 250
2 Hybrid: 235
3 Hybrid: 210
4 Hybrid: 190
5 Hybrid: 170
6 Iron: 150
7 Iron: 140
8 Iron: 125
9 Iron: 100
Pitching Wedge: 80
Sand Wedge: 60
Odyssey XG SRT 2 Ball Putter
Advantages: This set is good to use on most courses that don't have a lot of elevation changes or steep pot bunkers.  The hybrids are great for fighting off strong winds, and there are no big gaps in distance throughout the club set.
Disadvantages: Missing a lob wedge is a big deal sometimes, especially when trying to shoot out of the pot bunkers on Bonnie Moor!  Still, that's pretty much the only disadvantage to this set.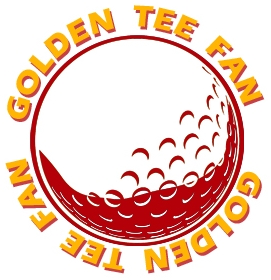 Golden Tee Fan is a Golden Tee addict from Chicago, IL, thirsty for tips and tricks!
Email this author | All posts by Golden Tee Fan