Helix Set (Formerly 2008 APEX PLUS Club Set (High Spin))
By
Golden Tee Fan
• Category:
Golden Tee golf clubs
•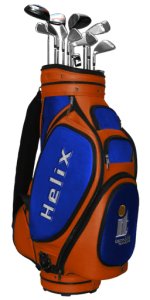 This set of clubs introduced in 2008 Golden Tee allows you to play maximum spin on your shots, either roll or backspin. Here are the golf clubs included in this set and the relative distance:
Standard driver: 300
3 Wood: 275
5 Wood: 250
2 Iron: 225
3 Iron: 200
4 Iron: 180
5 Iron: 160
6 Iron: 150
7 Iron: 140
8 Iron: 125
9 Iron: 100
Pitching Wedge: 80
Sand Wedge: 60
Putter
Advantages: The distance of each club is well distributed from top to bottom, and players who like using a lot of spin can really benefit from this set by playing extreme angles and utilizing lots of roll and backspin.
Disadvantages: You lose 10 yards off your drives with the standard driver (not so bad), and angled approach shots may be more difficult to control with the spin potential (sometimes too much backspin is created for your liking). Short chips are also more difficult without a lob wedge.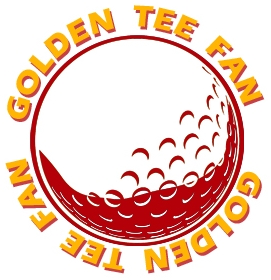 Golden Tee Fan is a Golden Tee addict from Chicago, IL, thirsty for tips and tricks!
Email this author | All posts by Golden Tee Fan