Benefits of Online Play
By
Golden Tee Fan
• Category:
Home Edition
•
I have been ecstatic with the online play offering in the first month it's been available.  So what makes it so much more fun?  To me, it's that every game counts.  I've always been a numbers guy, so I love accumulating statistics with each game played.  Shooting for new personal bests has a new excitement to it — it's satisfying knowing that the -27 I shot on Cape Haven isn't just a high score on my machine, but it goes with my card and my account anywhere I go now.  What's my average on Bear Lodge this month, and how does that compare to the other courses?  That's all tracked automatically, and I can just go to goldentee.com to sign in and check out how I'm doing.
It's also the online leaderboard, which I have a renewed interest in now.  Before the home edition, I'd just play a few games a week at the bar, which wasn't enough to shoot low scores to give myself a chance at a decent monthly rating.  Now I've already paid for unlimited games ahead of time, so all I need is the time to play.  It's fun to say that I'm #92 in the world this month.  If I don't like that, I can play as often as I wish to try to better my scores.  Suddenly a decent world ranking is achievable!
Of course the customized golfer adds to the fun of the game at home now.  Where before you had to change your outfit at the start of each game, now you just swipe your card and your golfer comes along with it!  So when you start dropping hole-outs over 150 yards and sending those great shots to YouTube, your style comes along with it.  New holiday outfit available?  The Give Away Code option is still there to add these items to your wardrobe when they come along!
And another personal benefit is instant access to record scores in my GTF League on a weekly basis.  It was difficult to justify playing 5 games a week, spending all that money just so I'd be a participant in my own league.  With the online hookup, I get to record my scores at home and reap the benefits of cash winnings without having to put any money in the machine!
How about improved play?  When you know that every game counts and you combine that with the comfort level you gain with your own machine, your scores start to get much better.  I saw my handicap jump up by 3 after just a month — an improvement I hadn't seen in 3 or 4 years!  With that comes a confidence boost that you can not only destroy your friends but also hang with any other tough local competition.
But are there any drawbacks?  Possibly.  Once you get comfortable with any machine, it can be difficult to perform well on another machine in a different environment.  I've gotten quite comfortable shooting low scores at home, but I've learned that putts at home break more than putts at the bar machine.  I also have a harder time with chip shots at the bar than at home.  These differences can be a combination of a smoother trackball, a larger TV, a pedestal that may not be completely square with the screen, a cramped space, or anything.  In any case, there's something to be said for mastering diversity of machines, and the best in the game can adjust to these changes without seeing their scores falter.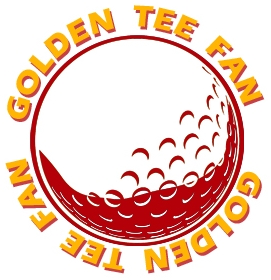 Golden Tee Fan is a Golden Tee addict from Chicago, IL, thirsty for tips and tricks!
Email this author | All posts by Golden Tee Fan