GTF Tackles the 2016 Ultimate Cycle
By
Golden Tee Fan
• Category:
Home Edition
•

During July 2016, Golden Tee hosted an event called "The Ultimate Cycle" where home edition owners were invited to play all 55 LIVE courses at least once during the month in order to receive a discount on their 2017 upgrades.  Of the thousands of home owners, 126 accomplished this feat.  But for me, that was the easy part.  The real contest was in seeing how great you could make your total cycle, since your best score on each course is the one that counts.  This contest required a lot of skill and a lot of time invested.  I decided I was going to go all-in to see how high I could place.
I've done something like this before just for a little self-competition.  Last summer, I made it a goal to shoot -25 or better on all 50 courses.  I granted myself an exception when I hit -24 on Eagle Crest, which is "GT Par" for that course on most occasions.  I got 49 of them before finally getting Southern Oaks in the fall to complete the quest.
Now keep in mind that took me 3 months.  Here we're talking about trying to post similar scores, even better, in just 31 days.  Any night off could mean another player gaining strokes on you.  But here was the thing — you never knew how the competition was doing.  This event was completely blind, save the few random posts on the Golden Tee Home Edition Owners Facebook page to report progress.  No one knew what it would take to win or how others were doing.
My commitment was about 5 days a week for about 3 hours at a time — mostly evenings on weeknights.  Balancing a full-time job and a family didn't afford me much more, but I was content that I could make a good run.  All in all I'd guess I put in around 65-70 hours for the month.
My approach was to play each course until I scored within a few strokes of GT Par, and then move on until I completed all 55 with a decent score.  Then I'd go back and clean up with the time I had left.
As you would expect, there were certain courses that ate up 2-4 hours alone until I was happy with my score to move on.  Among these were Sequoia Grove, Auburn Glen, Black Hills, and (for some reason) Monument Valley.  Shady Acres is another really tough course where I was content with a -23 after 1-2 hours.  I fared quite well on the other tough courses, managing a -25 on Royal Cove, a -25 on Southern Oaks and a -24 on Tundra Peak with only a few tries each.
Also as expected, some courses were "one and done", giving time back to improve in other areas.
When I was done with my first decent pass, which was about halfway through the month, I think my total was around 1320.   I set a goal of 1350, knowing the mental grind would be too much to expect much better.  But to my surprise, with a week to go, I had risen to 1385.  Now, all of a sudden, 1400 was in sight, and perhaps a place in the top 5, which had become my goal.
I don't know if other players experience this, but many times, my best score on a course tends to be the first time I see it.  If I know I have to play a course in repetition in order to achieve a certain score, which is usually near perfect, it adds immense pressure.  I lose focus on the easy holes because I'm just trying to get to the more difficult shots.  I start to miss putts because I'm impatient and just want to move on.  Racking up DNF after DNF is incredibly draining, and it's hard to come back time and again with the mental focus to execute cleanly.  I'm happy there wasn't a camera on me capturing my anger, frustration, and disappointment that come with my competitive nature.  But then you hit it — you finally hit that score, and man is it sweet.  This contest required incredible persistence.  Celebrate, and then move on to conquer another one.
Top score and second place were out of the question for me — I knew Tony Johnson and Michael Bowling would get those.  But with how things were going, I had an outside chance at 3rd place, and I thought I'd be around 5th at worst with a couple other guys I knew would have big cycles.  There are those who might not be as good as you but can put in a lot more hours, and there are those who are better than you but might not have as much time.  I had a pretty good combination of skill and time to be in the race.
On Saturday night the 30th, I hit -1400 even.  What a landmark.  That was it, I said…that's the best I can do.  I left nothing out there, and I was satisfied with every score I had.  And then Sunday came, and I had a couple more hours free in the evening.  May as well see what happens, right?  Well that 1400 turned into 1405 when the clock ran out, and I knew I had a chance at one of the big prizes.
Highlights of the cycle included my first ever "2-better", a -28 on Grand Savannah; a near one-better -29 on Pearl Lagoon where my 75-foot uphill putt on the 18th came up just short; an even -28 on Indigo Mound; being on pace for -31 on Whispering Valley and then turning it into a -27 on the final 3 holes; and finishing Sunday night the 31st with a final game of a one-better -29 on Rocky Hollow.
On Tuesday, we found out that my score was good enough for 3rd place and a new Callaway wedge!  The wedge will be cool (I actually need it), but the satisfaction of scoring 3rd out of 126 finishers and thousands of home edition owners was pretty sweet.  Feedback on this event was very positive, and I'm sure we'll see it again in 2017!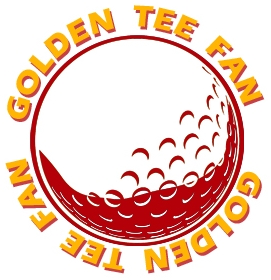 Golden Tee Fan is a Golden Tee addict from Chicago, IL, thirsty for tips and tricks!
Email this author | All posts by Golden Tee Fan