Upgrading Home Edition to Online
By
Golden Tee Fan
• Category:
Home Edition
•
This process starts the same as any other software update — details of that process can be found here.  However, with this special update, there are two additional steps.
After the software upgrade, you'll install a card reader.  Technically, you can function without a card reader and play online using your Lost Card ID, but that's no fun.  Swiping a card and playing online from home is pretty sweet, so you'll want one.  Installing the card reader is also very simple.  It comes as one unit, and all you have to do is plug it into another open USB port on the system box and screw the mounting portion of the card reader onto the back of the machine into pre-drilled holes.  I know, it'd be fun if it were mounted in the front like you see at the bar, but the cabinets are different for the home edition.  This is how it looks when you are done!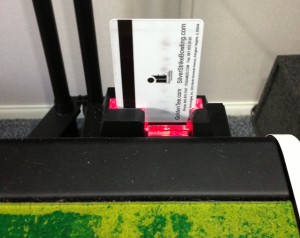 The last step is setting up your ethernet connection.  There are two options here.  The system box under the hood has an ethernet port already, and the upgrade comes with an ethernet cable (or you can use your own).  If your Golden Tee is close to your home computer Internet connection point (router and modem), option one is to plug the ethernet cord from the game into your router.  If not, option two is to buy a wireless ethernet bridge, plug the cord into the bridge, and have the bridge communicate back to your home network.  This is what I did, and more detail on that setup process can be found here.
Once your ethernet is plugged in, you just need to test your connection through the game setup options!  For me, the connection worked immediately, and my game was talking to ITNet right after the setup.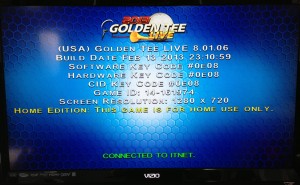 Finally, your home edition must be registered with IT, and your online subscription must be active.  Use this link to contact IT to get all that set up, preferably before you do the software upgrade, so that you can be ready to go right afterwards!  They'll just need your machine's Cabinet ID to get it registered.  Once active, you'll get an email with a link to manage your online subscription through a special GT Operator Services website.  This site allows you to see your subscription status and adjust settings on your game (although you can do this directly on the game itself too).  This site is mainly for vendors to manage their machines, but it's cool to see what it looks like as a home edition owner.
With all this in place, when you boot up your game, you'll see that you are connected and have a green light for online play!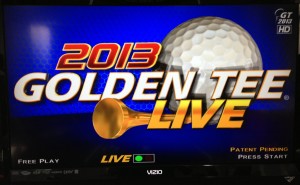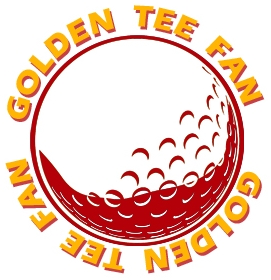 Golden Tee Fan is a Golden Tee addict from Chicago, IL, thirsty for tips and tricks!
Email this author | All posts by Golden Tee Fan