GoldenTeeFan takes on Cedar Rapids
By
Golden Tee Fan
• Category:
Features
,
Improvement
•
Well I had another fantastic time at a Golden Tee tournament — this time driving out to Cedar Rapids, IA for the action.  I got to the Double Inn by 4:00 on Friday.  The setup was fantastic — there were 15 pedestals set up all around the perimeter of the seating area.  With only 39 participants, there was always plenty of room to get in a game any time you wanted, all weekend.  And the cost of prize play was lowered to $2.50/game by the vendors, so that saved everyone quite a bit of cash on the games too!  The vendors did an outstanding job staying organized and keeping things running, so if you can make it next year, I'd recommend it above all other tourneys!
It took a bit to get used to the pedestals again.  You have to get used to the putting a bit, and a lot of my approach shots were coming in long.  Still, after you get used to them, there's nothing else you'd rather play on.  I'm not looking forward to going back to the old school machines after getting used to the big flat screen all weekend!
Friday night brought a lot of excitement.  There was a blind-draw doubles tournament, and I was hooked up with a dude named Chris Dilly from Omaha.  Unfortunately for everyone, the top 2 qualifiers (Kinz and Mouth) got paired together.  And unfortunately for us, we had to play them in the first round!
As it turned out, this was the most exciting match I've ever been a part of in my short tourney career.  We picked up a couple strokes early on, and then Kinz and Mouth kept chipping over the green on Black Hills hole #5, getting a 7 on that hole!  So after 5 holes, Chris and I were up by 5 strokes — can you believe it?!  As you may have guessed, they chipped away at that lead, getting 3 strokes back on hole 11 with an eagle while we bogied.  They tied it up later on and we were all square at -18 after 17 holes!  Mouth put it pretty close on the fringe on 18, and I stuck the green!  Kinz made the putt, and then Chris had a tough, long right-sloping putt that didn't quite go in.  He had been money with the putter all day, but we couldn't get that one to fall, so we lost -20 to -19.  We also lost the next match, not playing as well, and Kinz/Mouth never lost a match on their way to the doubles title.  Still, I'll always have the memory of this fun match!
Qualifying was great with 39 guys on 15 machines — there were either 2 or 3 on each machine, and we got to play a full 5-course qualifier.  It started at 12:30 and ran until 5:30.  For some reason, I still get really nervous playing qualifying matches, and I had a horrible front nine (-9) on Grand Savannah to start.  I recovered really well on the back, putting up a respectable -20.  But, it never got better than that.  I went -18 on Woodland, -15 on Black Hills, -15 on Sunny, and -20 on Bonnie…not very good.  I was missing putts and just not executing well, and even with those not-so-great scores, I was right on the cut line.  The top 24 made the cut to play in the gold bracket, and I ended up #25!  My goal was to make the cut, and I failed there, but some exciting stuff was about to happen.
The "purple" bracket (which was double elimination) for the 14 guys who missed the cut started at 7:00.  I had a bye and then played a dude named Dave on Bonnie.  I fell behind by 2 early but recovered well after that, cruising to a 2-stroke win.  Then I played an amazing guy from Omaha named Evan.  Evan was involved in an awful motorcycle accident that left his right arm paralyzed, which he had in a sling.  Still, Even was a great Golden Tee player, able to execute every shot and drain every putt using just his left hand.  Even made a mistake early and gave me 2 strokes on hole #2, and I kept that slim lead most of the way, finishing with another 2 or 3 stroke win.
Next up was "Buffalo" Bill Spruce, and we had an epic battle on Bonnie.  We matched each other shot for shot until I took a 1-stroke lead late in the match.  Neither of us made more than 2 or 3 mistakes that round, and it took all I had to put up a -26 that edged out his -25!  And that was it for Friday night.  Since it was true double elim, Evan and Bill would play the next match Sunday morning, with the loser getting third place ($62) and the winner getting another shot at me.
Bill played a very clean round on Woodland and closed the door on 17 and 18 with outstanding tee shots.  So Bill got a rematch with me, and Bonnie was drawn, much to my dismay — I couldn't put up another -26 like yesterday!  So we battled it out again, with me getting a nice hole-out on 2 to hold a 1-stroke lead for a while.  We were tied going into #14, where I drove the green and he ended up on the fringe with the water between him and the hole.  He caught a tough break when his chip went in the water, and I eagled, taking a 3-stroke lead.  I was able to hold on from there to shoot a -24 to his -21, and that was it!  Bill got $125 for 2nd place, and I got $185 for first in the purple bracket!
Needless to say, I was never so happy to miss the cut!  It's always great playing matches against players who share your skill level, where anything can happen and you always have a chance to win!  I also found I wasn't as nervous playing the heads-up matches, although I don't know why — maybe I was less intimidated and had more confidence knowing I had a good chance against these guys.  In any case, if I can make a run like that in the purple bracket, then anyone can — it just goes to show you how well the amateur players like me can benefit from playing in a big tournament!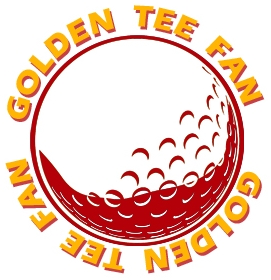 Golden Tee Fan is a Golden Tee addict from Chicago, IL, thirsty for tips and tricks!
Email this author | All posts by Golden Tee Fan