How the Tough Courses Define Your True Skill
By
Golden Tee Fan
• Category:
Features
,
Improvement
•
A short while ago, I had an amazing cycle going.  It started with a -24 on Coconut, followed by a -24 on Jackrabbit.  Then I shot GT Par -26 on Bear, followed by a -25 on Cape Haven.  At this point I'm -99 after only 4 games!  My previous high cycle had been -117, so I only need a -19 on Sequoia to beat that.  The way I'm playing, this is a sure thing.
I shot a -15 on Sequoia.  Couldn't believe it.  So what happened?  Well, Sequoia Grove happened.  A really difficult course happened, and I was once again humbled by my inability to conquer the toughest course, with some of the toughest holes, in the game.  And when I looked back, I couldn't finish strong on Coconut either.  I was -23 after 16, but with a doable look on 17 I only managed birdie, and then I got wet on 18 and parred out for the -24.
The 2013 courses are a great example of how a player like myself can gain confidence by scoring well on the easier courses but lose almost all of it by failing to convert on the tough ones.  So to me, the measure of a player's skill should be taken not off his average on Jackrabbit, but off his average on Sequoia or Coconut.  Those are the courses that really challenge you to keep making tough eagles (and some tough birdies as well) to keep your scores respectable.
So, before I beat myself up too much for struggling to eagle some of the tough par 4s in the game, I wanted to see how often the pros are actually eagling them.  I was pleased to see that they can be toss-ups at times for them too!  Here are a few examples:
Sequoia Grove #16: Pros only eagle about 60% of the time.  I am much lower on this one, but this proves it's tough.

Coconut #17: Pros only eagle about 45% of the time!  Again, I am lower, but I know there is a lot of luck AND skill involved in this shot, so the fact that pros get eagle less often than not is encouraging: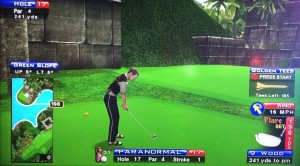 Coconut #18: Pros only eagle about 35% of the time!  This is one of the toughest tee shots in the game to stick the green, so I'm happy to see it's hard for everyone: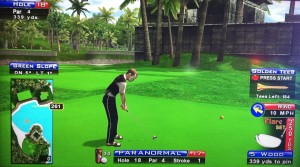 Bear Lodge #7: Pros eagle close to 70% of the time.  That seems about right.  Amateurs like us struggle most with the far left tee box, but other setups are doable with a lot of practice:

So, while the toughest holes in the game are tough for everyone, it still comes back to how well you can play these tough holes, because they make all the difference in your scores.  If you put an amateur in a handicapped game with a pro on Jackrabbit, the amateur is going to win.  There are not enough opportunities for the amateur to lose strokes on this course, and it has the highest scoring average for most amateurs.
However, if you get that same player in a handicapped game on Sequoia, the pro is going to win.  The pro knows how to navigate all the tough holes on this course, and the amateur is going to find trees and water, losing many strokes along the way.  In fact, the pros are able to put up the biggest scores on Coconut and Sequoia, while amateurs are not.  This is because Sequoia always sets up for at least a -28 GT Par, and the pros just don't make many mistakes.  Coconut can set up for a -30 if hole #1 is there, and again, the pros nail all these shots on a good round.  But the shots are just too difficult for amateurs to make all of them in a single round, and that's why it's hard for us to take full advantage of the potential of these nasty courses.  So on one hand you can make some mistakes and still have a great score, but on the other hand you'll have left strokes on the course that the pros are picking up.
In summary, that's why I've shot GT Par or better on Jackrabbit, Bear, and Cape Haven this year, but also why I haven't been within 2-3 strokes of GT Par on either Coconut or Sequoia.  They are just too tough, and it'd be a once-in-a-lifetime round to nail all those looks for a -28 or better.  So while it's fun to play a less stressful round on Jackrabbit to shoot a good score, you're not going to reach your full potential until you start to master the tough holes on the tough courses.  And so ends my lesson on humility.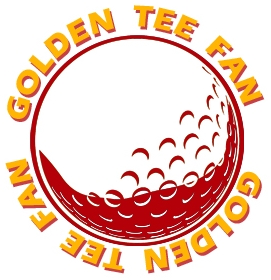 Golden Tee Fan is a Golden Tee addict from Chicago, IL, thirsty for tips and tricks!
Email this author | All posts by Golden Tee Fan