Why You Don't Play Well in Tournaments
By
Golden Tee Fan
• Category:
Features
,
Improvement
•
Many of you may have recently played in a big Golden Tee tournament featuring some of the best players in the game.  While you never expected to compete with these guys, you expected to at least hold your own, because you know your ability.  But then qualifying is a disaster, and then you find yourself knocked out early in match play the next day.  What happened?
Too many people chalk it up to just having a bad day or a bad weekend.  After all, we all have good games and bad games, but mine just happened all at once.
In reality, there are a lot of reasons you didn't play as well as you should.  Let's take a look at some of the things you can't control, and then we'll focus on what you can control so that you do better next time!
First, you're in a foreign venue surrounded by lots of players who are better than you.  This is intimidating.  You might not have pedestals with flat-screen TVs in your local bar, and you certainly don't have them set up everywhere.  Even if you do, the elevation and size of the monitor will certainly differ.  And you can bet that pedestal has a trackball that rolls smoother than anything you play on.  SO, get there early, bang out a few games on several different machines, and get comfortable with the surroundings — you'll be here a while!
QUALIFYING:
When the action gets underway, you'll usually be paired with 2 or 3 other guys to play each course of the qualifier.  You will have several dangerous tendencies here — mainly your desire to show off your skills to others in your group or to try to mask your weaknesses.  You won't even realize what's happening until you're completely embarrassed by shooting a score that you never would have shot back home.
BE YOURSELF.  Play your own game.  Don't go pin-hunting just to try to show off; give yourself a putt.  Don't try to do what someone else just did if you aren't comfortable with it.  You'll see a lot of new shots here that you haven't even tried yet — don't try something for the first time in a tournament!  Save it for next time.  Don't lay up in a particular spot just because everyone else did.  Don't hit a bump-and-run chip just because you see everyone else doing it.  If you do make a mistake, even a blow-up hole, shake it off!  There's a long way to go, and you'll see soon enough that everyone else makes mistakes too.  Qualifying won't matter for most of us amateurs, because we're not going to make the cut with the top guys anyway.  Allow qualifying to settle some nerves and give you confidence that you belong to be here.
MATCH PLAY:
Most of us amateurs will end up in the "Purple" bracket, meaning we didn't make the top 32.  This is a good thing!  Now you get to play matches against other players who are of a similar skill level.  It's a lot of fun to win matches, and you can do it if you are mentally tough!  More so than before, your opponent is going to make mistakes.  Your goal is now not to have a blowup hole or any dumb mistakes.  Play safe and smart.  Give yourself putts and don't press until you absolutely need to.  Your opponent will be nervous too!  Have fun, be respectful, and play your game — you'll do fine.
I've been to many tournaments and have my own experiences as well as those of other tourney amateurs I've seen, and there's just something about a tournament that causes inexperienced players to be off their game.  Learn from my experiences in this and other tourney articles on this site, and you'll be ready to go enjoy one yourself!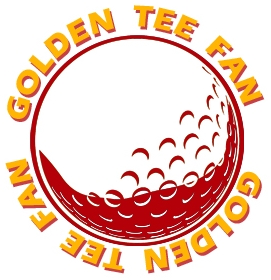 Golden Tee Fan is a Golden Tee addict from Chicago, IL, thirsty for tips and tricks!
Email this author | All posts by Golden Tee Fan