Preparing for Golden Tee 2011
By
Golden Tee Fan
• Category:
2010 - Golden Tee LIVE 2011
,
Improvement
•


Golden Tee 2011 is only two months away!  While it's hard not to get excited for the new courses and features, due to ship in the last week of September to bars with eager vendors, you've still got a few weeks left to work on your 2010 game.  Since you've probably been playing 2010 for 10 months now, you're familiar with the courses and execute most shots by memory.  This is the time of year I like to get back to basics and work on improving your fundamentals while also taking more chances on the course.  I recommend working on these tips your next few rounds while you're waiting for 2011 to come out:
1) Chipping — it's absolutely true that good chippers save multiple strokes per round by being able to punch the ball in the hole after missing the green.  Work on chipping in all types of situations — everything from low-lofted runners to 3/4 lob shots out of the sand.  Pull back on every chip shot and pay attention to distance.  You'll want to hone these skills to carry forward into 2011.
2) Pulling the trackball back on every shot — Get used to the distance added by pulling back on each shot and the angle created when pulling back to the side, even ever so slightly.  The great players always combat wind and slope by pulling back off-center to create an angle into these obstacles, and now is the time to pay closer attention than ever to how your ball reacts to different approach angles.
3) Play aggressively!  You don't learn without experience, so it's time to take some chances on those tough drivable par 4s and go for the gusto.  Sure, you'll make some mistakes, but the knowledge you'll gain is worth those extra strokes at this point.  Learn from what doesn't work, and store away what does work — I guarantee you'll always have to execute similar shots on new courses!
4) Play the 2009 courses one more time — on most machines, these will be gone when 2011 comes out, so give the old courses one last spin for nostalgia!
So, enough with the lessons — let's start running down all we know about the newest version of the game!
Here's an early review from one of the pros that got to test out the courses:
"I only got to play one cycle last night and I must say…I am fairly impressed. There are lots of holes that are mirror images of past holes, but have their own quirks to them that make it challenging.
The good:
1) The layouts of these courses are quite challenging. I think that on any one of them it would be fairly simple to shoot -21 or so. However, if you want to shoot -27, you will have to risk shooting -17. Very much like many of the current courses.
2) While the new tees will be required to shoot GT Par, it is fairly obvious when you need to use them.
3) Potentially driveable par 5.
4) Drop for mistakes are very easy.
The bad:
1) Quartz balls and old Black balls do not act at all like they once did. The indicators showed that they cut more and spun more, but the fact is that they do not. They reacted more like stock.
2) The new tees are going to be a requirement, if you want to shoot GT par.
3) Drops for mistakes are too forgiving.
The ugly:
1) The difficult part about the new tees is that backspin does not apply at all when you change the tee height. So you need to raise the tee to drive certain greens and then can't hold the green anyway.
IMO, the golden tees were needed more to get the ball higher to clear trees. The right to left is sometimes helpful, but not as necessary as the ability to get the ball high very quickly and to get the extra distance.I would say it is a good 15-20% increase in distance. I had one tee shot carry into the 390 range. I was down 15mph, but it didn't land until almost 400."Also, be careful not to hit Start too often when skipping to the next hole, because you may inadvertently use a Golden Tee on the next hole!
We know all 5 of the new courses for 2011 — check out the pages for each under the 2011 courses category!  They are Laurel Park, Falcon Sands, Grizzly Flats, Alpine Run, and Timber Bay.  More on each of these as updates are released!
So, this leads us to a couple of the most exciting new features for Golden Tee 2011.  First, we have learned that most old club sets and all old virtual balls will be available for purchase!  That's right — now everyone can have access to the "old birds" or other popular old club sets, along with any old type of virtual ball you want, all from a 2011 cabinet.  This might be a good time to check out the categories for Golden Tee golf clubs and Golden Tee golf balls — you'll have dozens of combinations to try out!
Next, and perhaps more exciting, players will have the ability to YouTube any shot you want! That's right — YouTube is not just for hole-outs any more.  I know I've had lots of great and/or lucky shots that ALMOST went in — well now you can capture those as well!  Any type of shot at any time can be saved, BUT, word is that there will be a small fee if you want to save non-holeout shots (this is so that YouTube doesn't get quite as flooded with Golden Tee shot replays).  It may cost as much as $.50 for a single upload, with perhaps a "3 for $1 deal," but I'm hoping they reduce this cost since that seems a bit high to most of us.
Another very interesting new feature is the introduction of "Golden Tees," which allow you to both change your position in the tee box and tee the ball higher or lower!  Bags of these tees come at a small cost but can be beneficial to sometimes significantly improve your position during a challenging tee shot.  There are mixed emotions on this one, but I think the majority agrees this is a really cool new feature (some just don't like the added cost associated with them).  You can tee it at one of three heights: low, medium (default), or high.  Important note — if you tee it high, backspin and roll will not work!  That's right, so keep this in mind when deciding whether or not to tee it high.  In contrast, teeing it low increases the effect of backspin or roll — you might even see some double-skipping over water in 2011!
Want to test out Golden Tee 2011?  There are now 4 test locations in Illinois waiting for you!  Help give the Golden Tee team some early feedback while you give the 2011 courses and features a spin!
Keep checking back here often for updates as they are made available!  Here are a few more pictures of what's coming in 2011: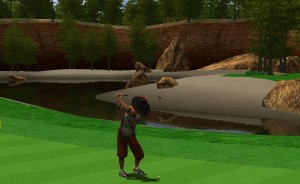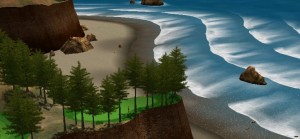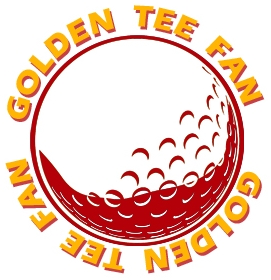 Golden Tee Fan is a Golden Tee addict from Chicago, IL, thirsty for tips and tricks!
Email this author | All posts by Golden Tee Fan