Getting Ready for Golden Tee 2015!
By
Golden Tee Fan
• Category:
2014 -- Golden Tee LIVE 2015
,
Lead Story
•
We're into September, and that means Golden Tee 2015 is less than a month away!  Click here to watch the preview trailer for the new release.  Here's everything you need to know about it, starting with the courses (touted as the most scorable ever – read more here)!  Click each link below to read an overview of each course and find links to video demos of each hole taken from the beta version in August!
Sparkling Waters in Minnesota
Desert Valley in Vegas
Celtic Shores in Ireland
The Pearl Lagoon in Thailand
Rocky Hollow in Utah
Next, there are two sets each of new virtual clubs and balls!  Click here to read about the Vulture and Detonator club sets, but note that the Vultures do not have a 7W as the picture indicates.  Click here to read about the Grabbers and Javelins.  We'll check back after a few weeks into the new release to see how well this new equipment fits into the 2015 version as compared to what you may already own.
In addition, there are two new game features with this release.  First, Golden Tee has introduced a Daily Contest where you can play a 2015 course with locked conditions over that 24-hour period as many times as you like to put up your best score.  The top 100 at contest closing win money back, with first place winning at least $50.  The prize payouts increase as contest entries increase, so this will be interesting to watch!  Here is more information about the daily contest, posted at the start of the 2015 season.  And they just upped the payouts as well — read more here!  And it has been upped yet again!
Next, there's a fun new game mode in Casual Play only called King of the Hill, where you try to become the king of any 2015 course on that specific machine during that week of play.  The current king's score is shown when selecting a course to play: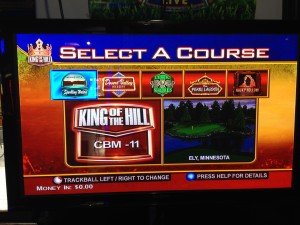 Then it's as if you have another virtual golfer playing alongside you during the round.  If you have honors, you tee off first.  If the king has honors, you get to watch the king tee off first.  A visual in the lower-right will show you the angle of each shot by the king, although the king's shot happens rather quickly, and you are left to guess how hard the shot was actually hit.  In any case, this should be an attractive game mode for casual players who want to be tops on their machine or learn from better players who have gone before them!
As always, you'll have the chance to win new hats, shirts and pants to add to your virtual wardrobe.
Finally, coming in 2015, a different classic course will be featured each week as available for prize play!  Players have asked for this feature for some time, and it will be nice to get to play a rotating course for prizes in addition to the new 2015 courses.
That's it — we're always ready for new courses and new features, so the rest of the year should be a great time to be a Golden Tee Fan!  Check back for the course write-ups on each hole to continue to learn how to navigate your way to lower scores!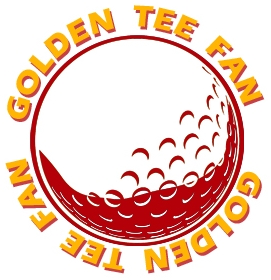 Golden Tee Fan is a Golden Tee addict from Chicago, IL, thirsty for tips and tricks!
Email this author | All posts by Golden Tee Fan