Animals, Aliens, and Bigfoot found throughout Golden Tee!
By
Golden Tee Fan
• Category:
Miscellaneous
•
This post is dedicated to the fun creatures that the Golden Tee folks have thrown into the game for your viewing pleasure if your ball happens to end up some place far from where you need to be! Borrowed from an original post on the ITS Golden Tee Forum, here is where you'll find all the creatures you may come across in the woods or elsewhere, and what kind of fun sounds they make if you decide to blast them with your golf ball!
This post has since grown to include all kinds of fun pics! I hear SkipperRipper has also found the Golden Tee machine on Bayou Bay, and that you can encounter a caribou on a mountain top somewhere on Summit Lakes. If you hit him, you'll hear jingle bell sounds like a reindeer with bells!
Also, there's an outhouse on Misty Springs hole #7 — it's a par 5 where you can shortcut through the woods, and the landing area in the middle of the woods has the outhouse. If you blast a ball into it, you'll hear a guy say "In a minute"! Classic! Enjoy the following pics!
First off, you have deer, bears that growl and wolves that howl. Here a pic Hoosier1 sent me of him getting up close and personal with a wolf:
And here's one WhoDat sent me of Jimmy Mac laying one next to a buck. The shot ends up morphing Jimmy Mac and the buck into Jimmy Buck: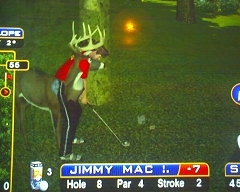 What is qshawne doing to this buck? Oh my.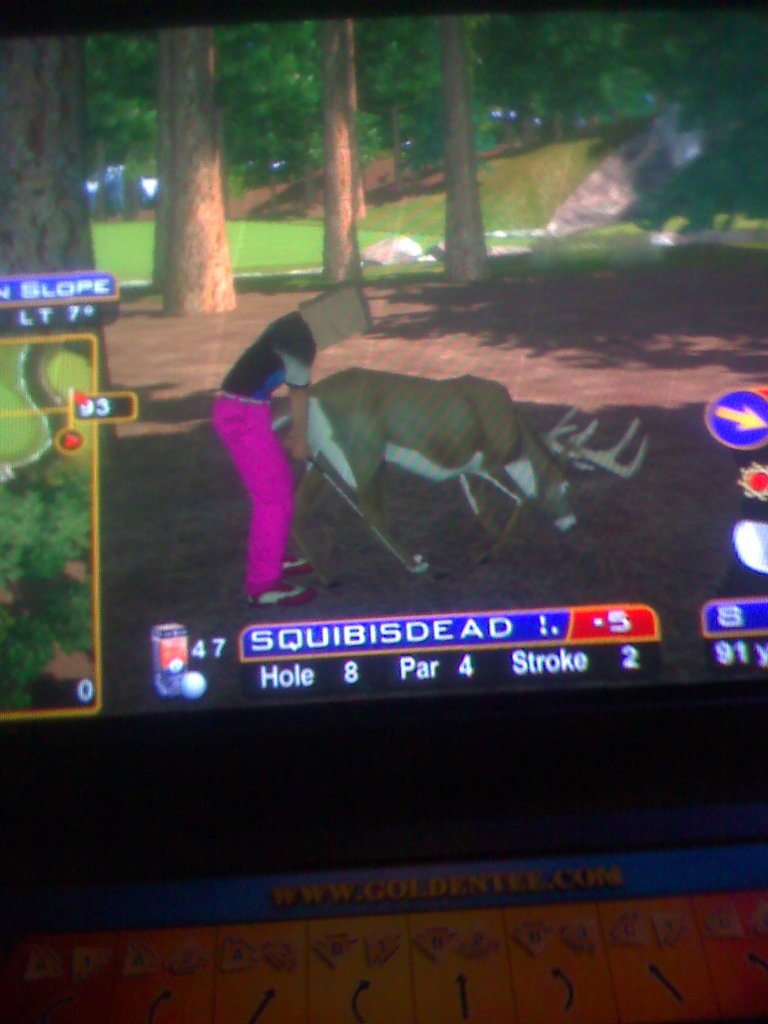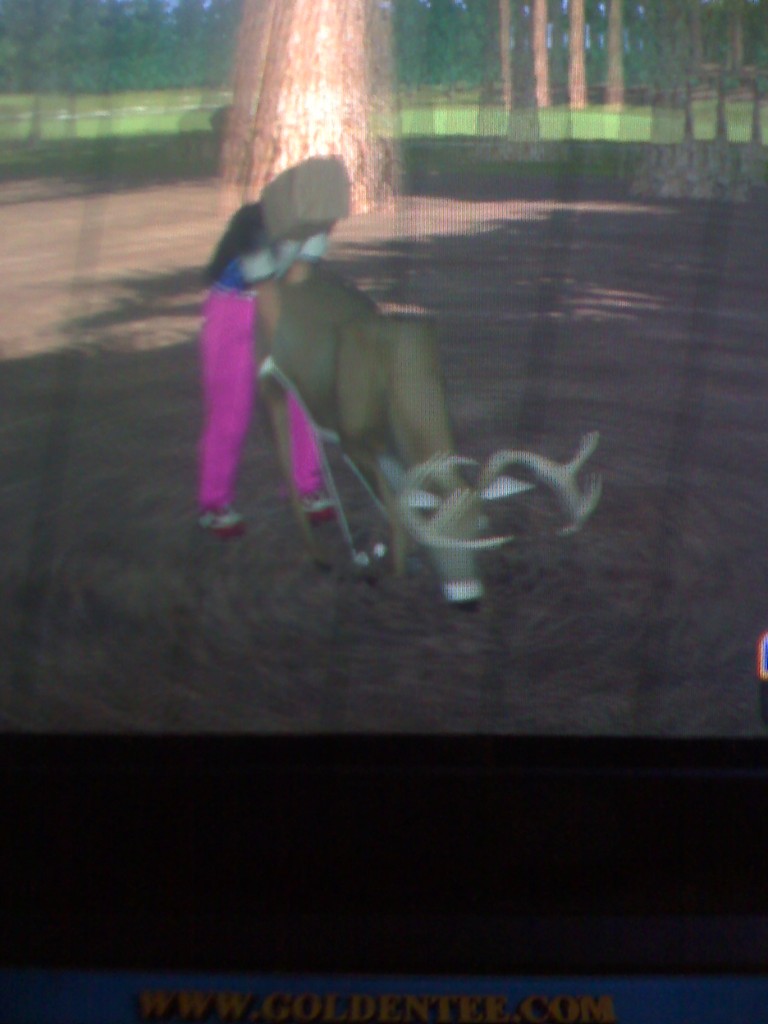 While we're at it, what is SkipperRipper doing to this poor sheep?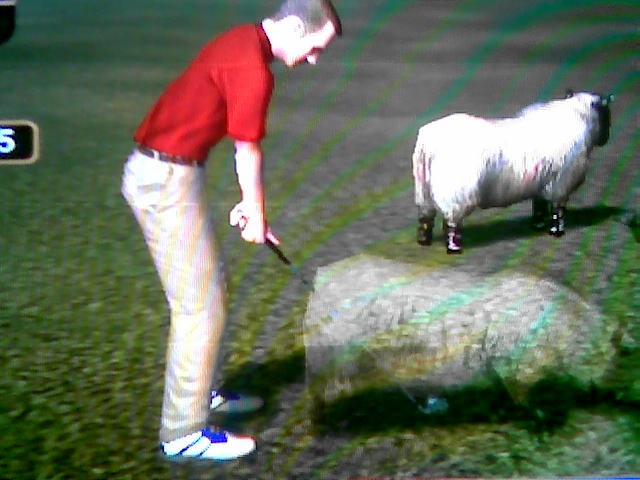 Here he is giving the business back to the statue!
Here's Dannyboy and his moose hat!

Now let's check out Dannyboy and this bear — first, the bear took his arm, so now he's taking it from behind…
Next, Dannyboy swings so hard he knocks the bear's head off!

Finally, the bear is left with a big hole where he was abused:

Here's SkipperRipper hanging out by the pool — wouldn't want to get sunburnt!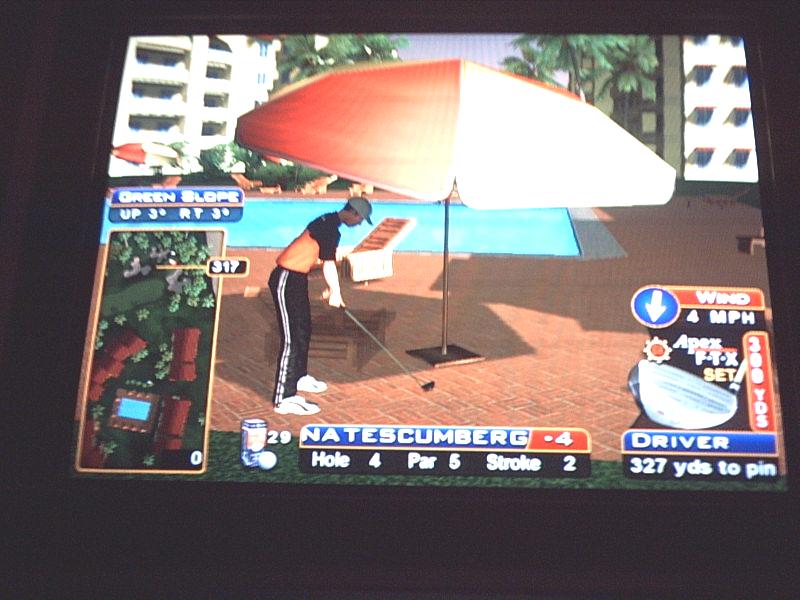 Or how about we join the party under the tent!
Nothing like getting run over by a taxi in New York!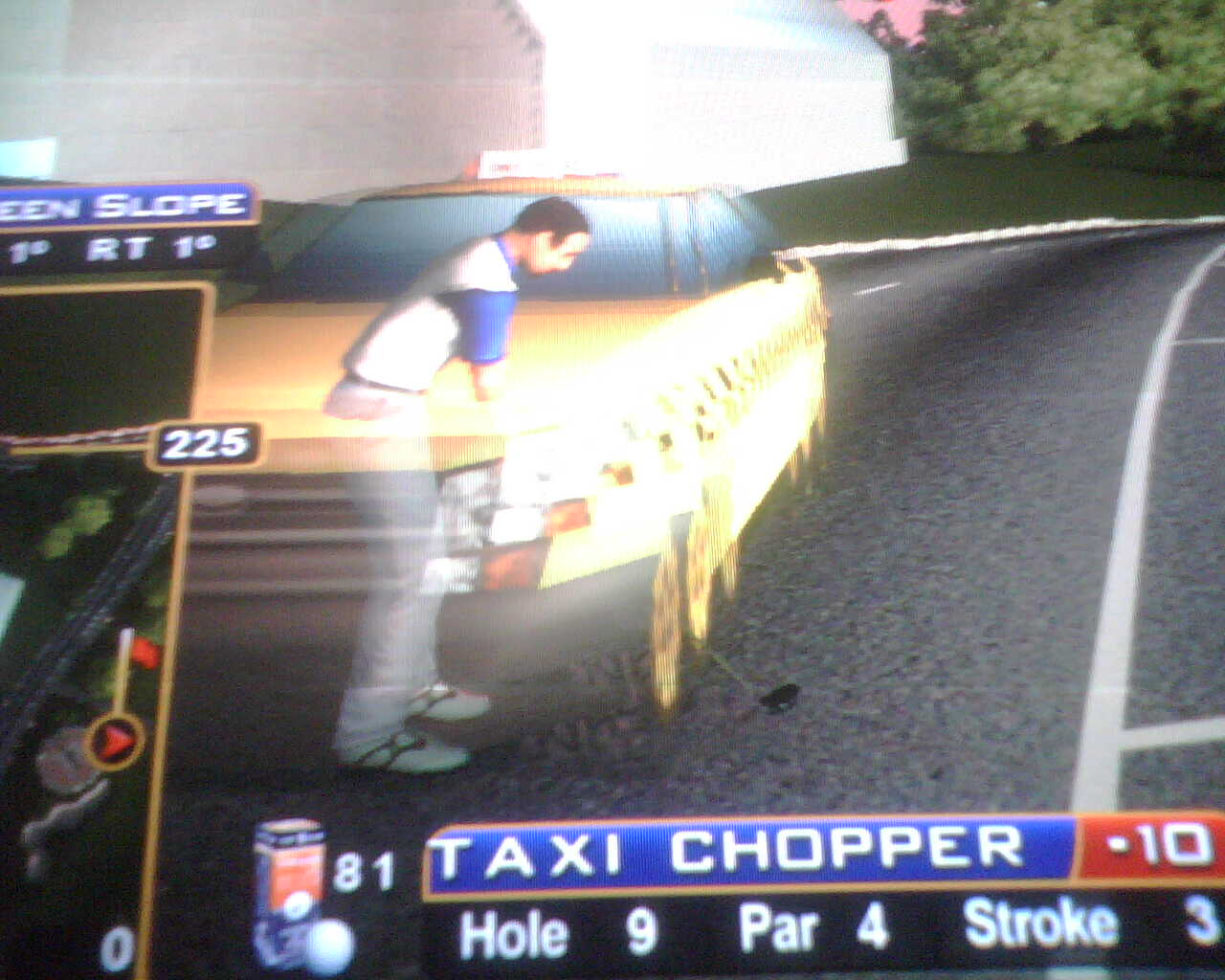 Here's a pic WhoDat posted of a polar bear doing something ala Conan O'Brien: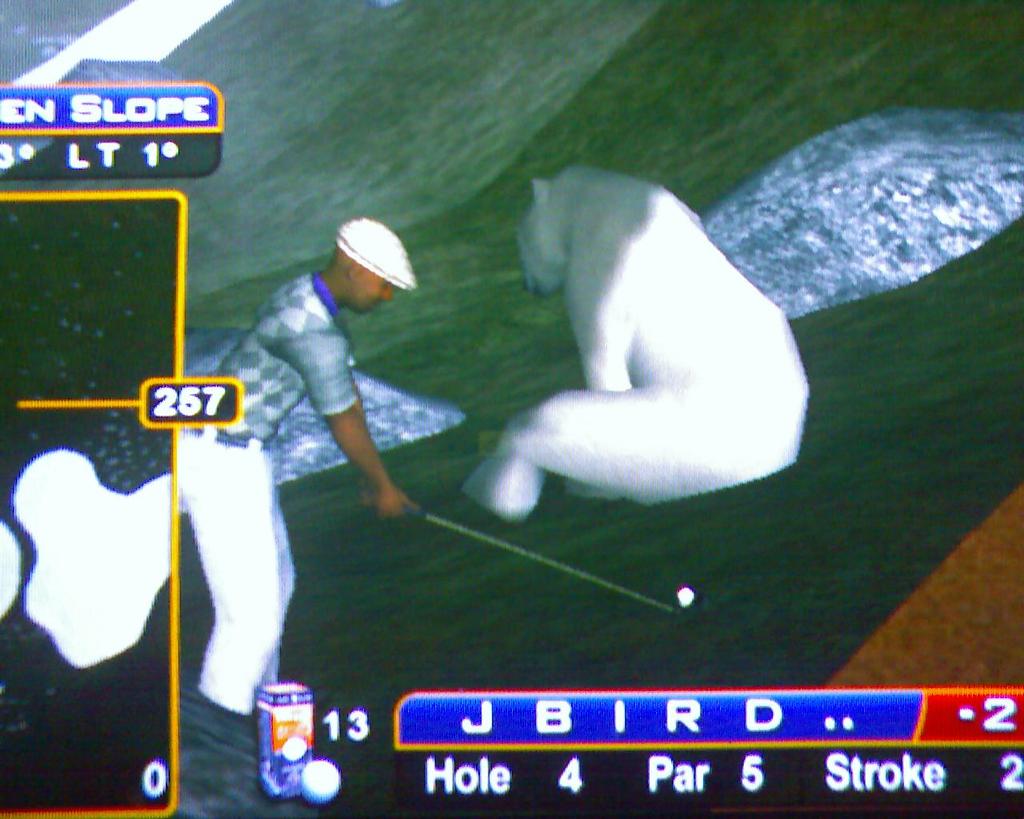 And here's Dannyboy getting the business from a curious wolf: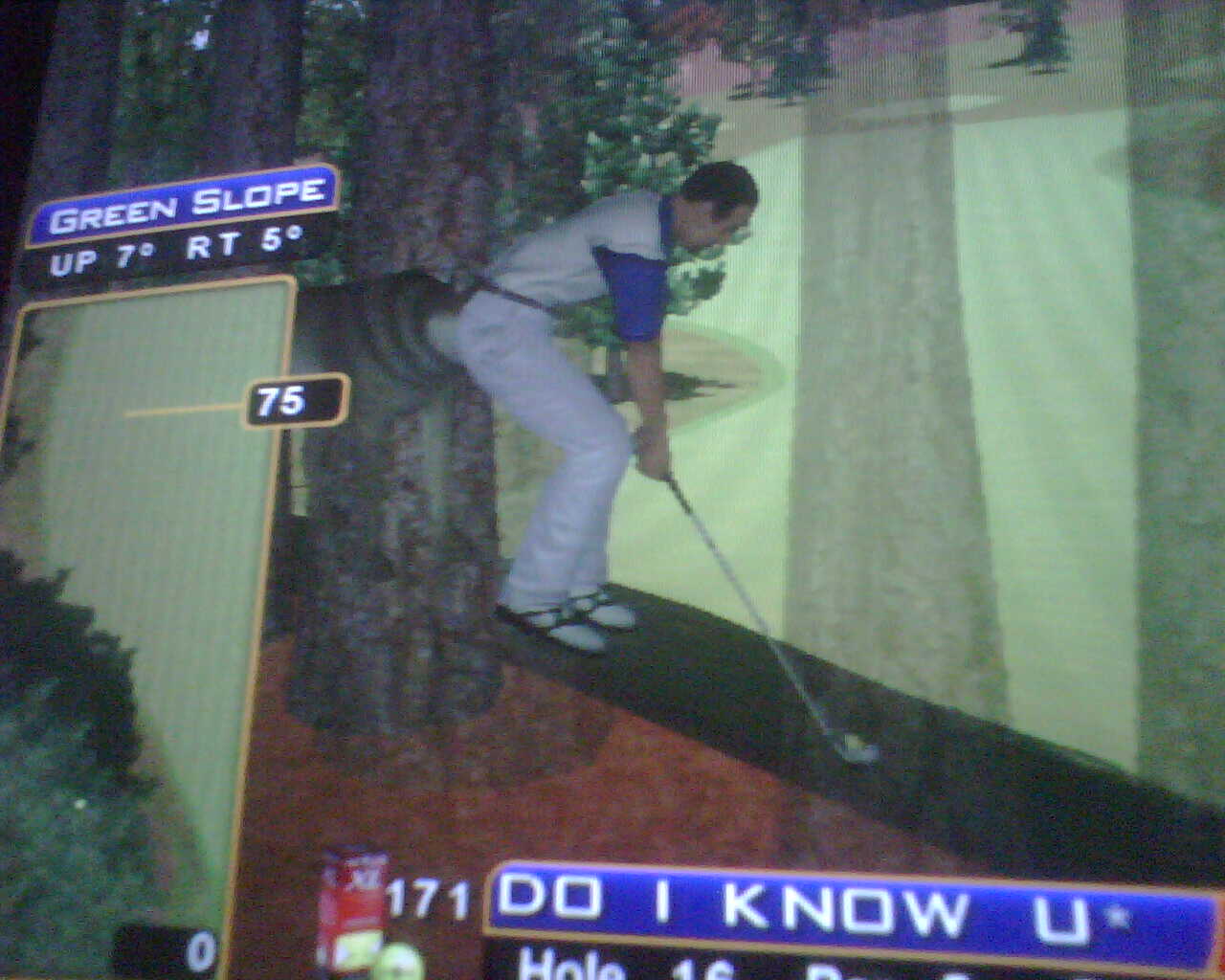 Why in the world is there a garbage can by the green?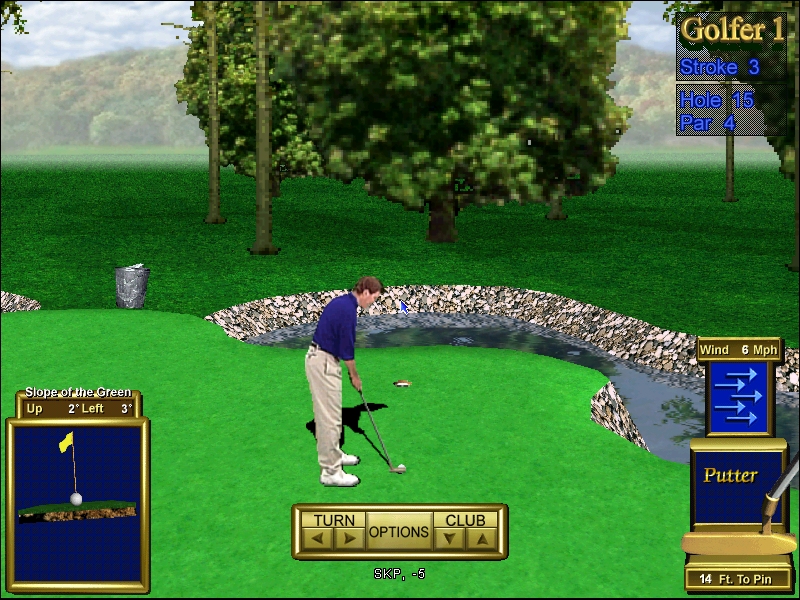 And why is Ronnie Ringo aflame?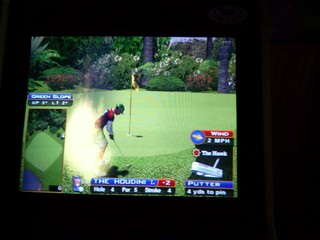 Long live Hoffa! I'm told you can also find him on Eagle Crest, hole #10, off to the right on an island!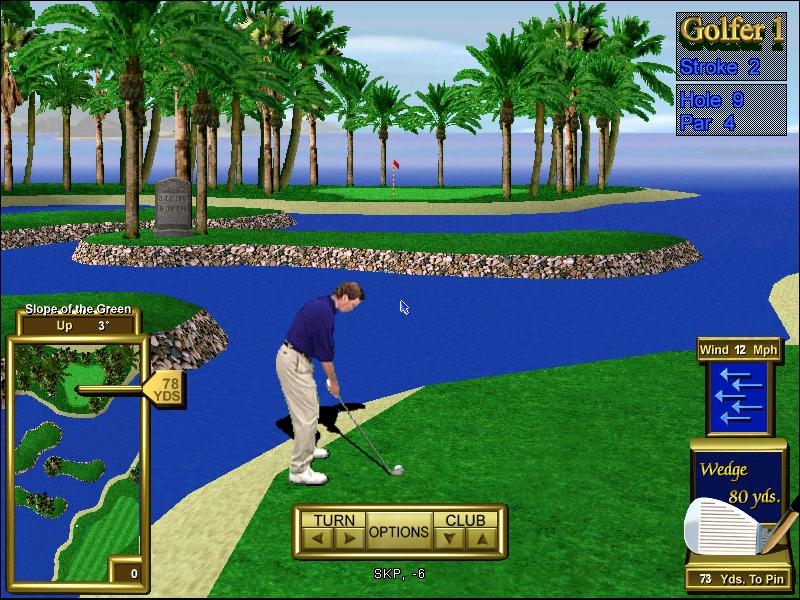 And how did he get a club in this pic? I wonder how far that will hit the ball!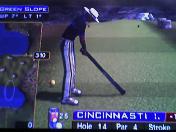 On Misty Springs, you can run into Bigfoot! Try blasting one into this guy and hear him growl! I captured this pic on my cell phone — I ran into him on Misty Springs hole #11 by accidentally hitting a drive into the woods on the right: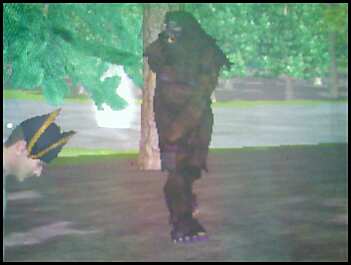 Here's an even better pic of Sasquatch WhoDat sent me of Dougie Fresh right behind him — looks like Bigfoot is actually holding the club!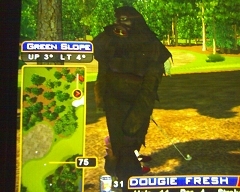 Mr Moy sent me this pic taken from behind the electronic billboard on Cypress Cove hole #18. It's the headless golfer with the sagging boobs!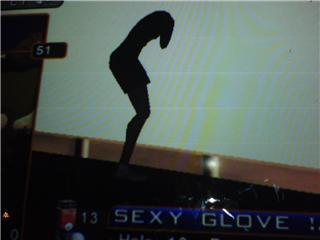 Getting even better, on every course in 2008, there's a spaceship! In this example, in the woods in the front left of the Jefferson Memorial (hole #4 on Eagle Crest), you can run into aliens and a spaceship — no joke! Blast an alien and hear him mutter sounds like E.T.! Or, crank one into the spaceship to hear it make robotic sounds like R2D2! Check out the picture below — it doesn't get any better than this…or does it? Special thanks to 0verfiend and motzart for all the cool info here!
Finally, my personal favorite is the guy peeing in the woods! Apparently this guy is a staple in Golden Tee lore. Check out this pic from SkipperRipper from an old version of Golden Tee, and then check out the new pic posted by E7aug9 from Misty Springs hole #16 — these are great!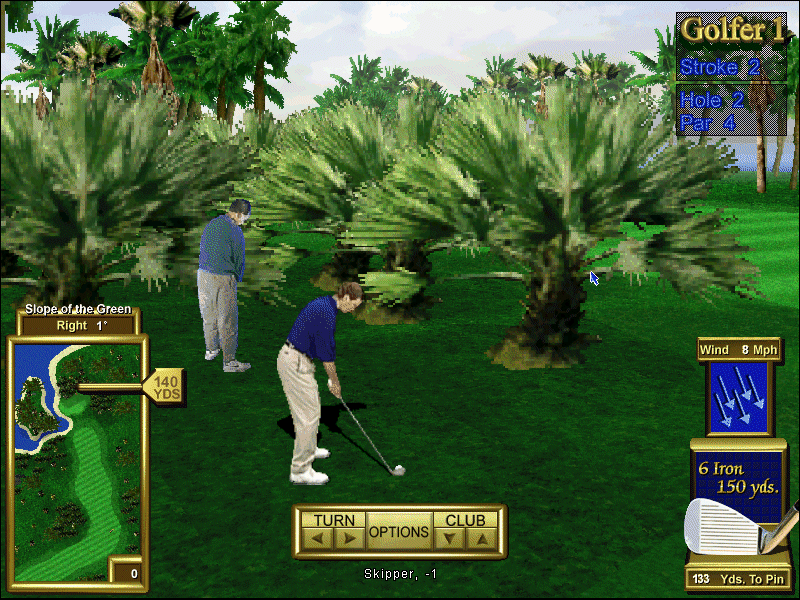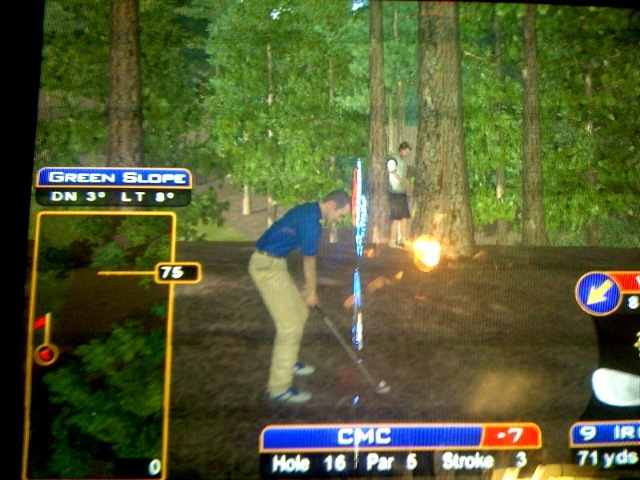 Ronnie Ringo also found the pisser!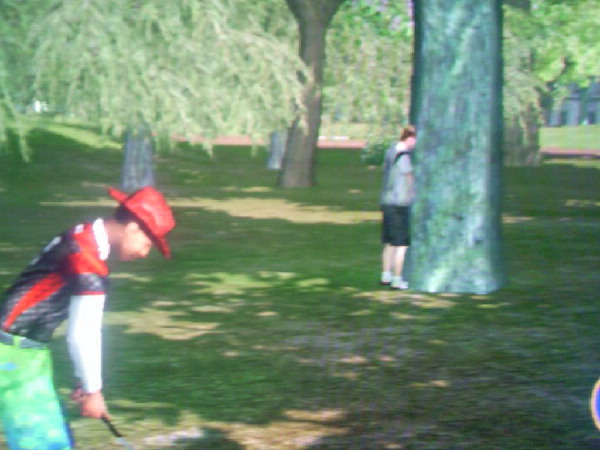 Some more shots that Matt caught: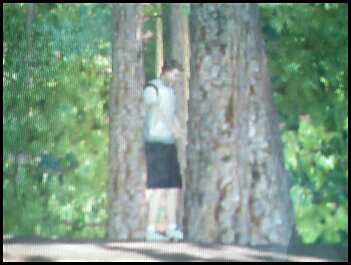 Here are a couple more shots Dannyboy caught of the pisser. Fore!

And here's a close-up — no nudity!

AND LAST, BUT NOT LEAST, Click here for a video from Dannyboy of Beaver enjoying the company of a buck!
Thanks for all the Golden Tee pics, and keep them coming if you come across any other funny ones!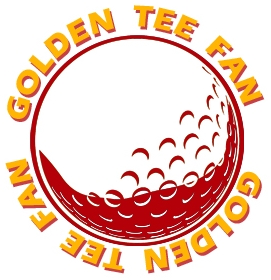 Golden Tee Fan is a Golden Tee addict from Chicago, IL, thirsty for tips and tricks!
Email this author | All posts by Golden Tee Fan