Courses by Yardage
By
Golden Tee Fan
• Category:
Miscellaneous
•
When Golden Tee redesigned their course selection screen during startup, they added the course distances at the bottom below the course names.  This is cool, but it doesn't mean as much without a relative comparison to other courses.  Well now we have it!  There are currently 74 courses in the LIVE era, and we'll briefly break down the shortest and longest ones to date.
If you want to jump right to it, here's a link to the full list.  You can organize by year or keep it sorted by distance.
Let's start with the longest courses…only 5 of these 74 top 7,000 yards: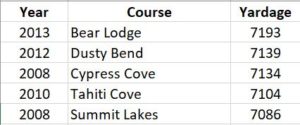 Golden Tee's longest course, Bear Lodge, is situated in the USA's largest state of Alaska, and Summit Lakes at #5 is in the Yukon Territory of Canada, both vast areas with plenty of room to stretch out a course.  Dusty Bend is situated along a stretch of Route 66 in Oklahoma, while Cypress Cove is situated along the rugged central coast of California.  Finally, Tahiti Cove stretches out in French Polynesia in the South Pacific.
What you can expect with these courses are long par 5s but especially several long, non-drivable par 4s.
Now, here are the shortest courses in the LIVE era: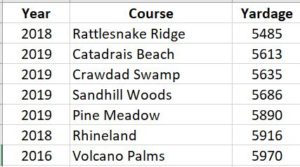 The remastered Rattlesnake Ridge is by far the shortest course in LIVE history.  The older Fore! courses were certainly shorter in general, and you'll also see Crawdad Swamp and Pine Meadow from that era on this list.  The exact reproductions of those distances from the Fore! era mean chances at low scores with the longer equipment and high tees, and this is especially true on Rattlesnake with multiple drivable par 5s.
The other trend in recent years has been to build more drivable par 4s, and even a few drivable par 5s, so with that comes shorter overall course distances.  That's why all the courses on the top of the shortest list are from the last few releases.  If you played the traditional way around some of these courses, then the distances would be comparable to other courses, but the option to drive straight at many of these greens means shorter overall distance for a skilled player.
We're quickly approaching 500,000 yards of holes in the GT LIVE era!  The mean course distance to date sits just under 6,500 yards, but we'll likely see that continue to trend downwards with the success of the shorter, more scoreable courses in recent years.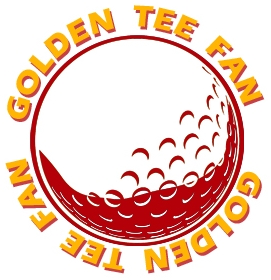 Golden Tee Fan is a Golden Tee addict from Chicago, IL, thirsty for tips and tricks!
Email this author | All posts by Golden Tee Fan