Dominate the Skins Game
By
Golden Tee Fan
• Category:
Features
,
Improvement
,
Miscellaneous
•
Alright – we're quite a ways into 2010, and maybe you're looking to expand your Golden Tee experience beyond stroke play.  Maybe you and your friends are ready to quit worrying about the blowup holes that ruin your round.  Maybe you are ready to put your focus on each hole individually instead of your score as a whole to make the entire 18-hole experience more exciting.  If so, you're ready for Skins Play!
Skins can be played with anywhere from 2-4 people, but in my experience, 3 people in a group works the best.  With 2 people you don't really have the group competition going on; with 4 people, you'll probably see too many carry-overs and it's much harder to win a hole.  But with 3 people, you have just the right blend of individual glory and tough carry-overs to make for an exciting round!
A fun way to get started with the skins game is to have everyone throw down $18 on the table (easily adjustable, of course, based on your financial situation J).  A dollar from each person goes into the pot before each hole starts.  If you win the hole, then you win the pot.  If it carries over, you each throw in another dollar for the next hole until someone wins a hole, and then that person takes the pot.
If you're playing for fun, you should take advantage of the built-in Skins game offered with Golden Tee 2010 – it will do the work for you!  If you're playing for money, though, you can go either way – you might want to just play stroke play and track skins on your own.
Okay, so you've got your 3 people and your money ready to show – so what's your plan of attack?  Let's break it down into general strategies, situations where you should be aggressive, and situations where you should be conservative:
GENERAL STRATEGY:
Be long off the tee.  This is very important, especially on holes with a difficult approach shot.  If you're closest to the pin off the tee, then you get to watch everyone else go first, which will feed into your decision on how aggressive/conservative to be on your approach shot!
Play your game.  Just because you're not playing stroke play doesn't mean you need to abandon the things that work for you, especially if you're going outside your comfort zone just to try to match a great shot.  You'll do best by sticking to your game, and your rewards will come with your opponents' mistakes.  Don't give up easy strokes!
Never give up!  So you got wet on the par 3 and your opponent hit the green?  You never know what's going to happen – he could 3-putt or even put his putt off the green.  Remember, the pressure is now on him to finish the hole, and he might open the door back up for you!  Plus, you always have a chance to chip in for the tie.
Have fun!  The beauty of skins play is the friendly competition amongst your group and how every hole is a new opportunity.  Don't get caught up in the results of one or two holes, because the next hole is another chance to win!
BE AGGRESSIVE!
The hole is pretty easy and a birdie is sure to carry over.  In these cases, let your opponents make their birdies – take aim at the pin or the green and go for eagle!
Your opponents already have birdies locked up.  In this case, you can do no wrong, because they are going to cancel each other out anyway.  Take a good run at the cup!
The pot is small.  In this case, it's okay to take a risk towards getting eagle, because you don't have much on the line, but your reward is more than you invested!
BE CONSERVATIVE!
The hole is difficult and birdies are unlikely.  In this case, you want to make sure you get your par so that, at worst, you force a carry over.
Your opponents are in trouble.  If you're last off the tee or last on the approach, and you see your opponents make mistakes, take the route that gives you the best chance to 1-up them.  Remember, you don't care about your score alone – you only care that it's 1 better than the other guys on this hole!
The pot is large.  Now, if your opponent has already put the pressure on you, then you must try to answer.  But, you cannot be the guy who goes first and puts his ball in the hazard off the tee.  Force your opponent to make a great shot to beat you, but don't hand it to him by playing foolishly!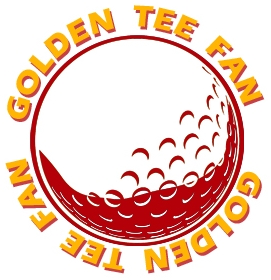 Golden Tee Fan is a Golden Tee addict from Chicago, IL, thirsty for tips and tricks!
Email this author | All posts by Golden Tee Fan