Golden Tee Fan's PCC Experience!
By
Golden Tee Fan
• Category:
Features
,
Miscellaneous
•
Well this is coming a little late — this tourney was a month ago, but I still wanted to give my perspective of the first every Golden Tee tourney I've witnessed!
My buddy Matt and I rolled into St. Charles around noon on Saturday. I was concerned about parking and even getting into the bar, but Side Pockets is HUGE! It was one of the coolest sports bars I've been in. They took a whole section of the place and hooked up 30 or 40 Golden Tee machines there, and there was still room to move around amongst everyone! The players agreed it was a sweet setup. They also had two machines hooked up to a projector so you could watch the action on the big screen!
I was kind of awestruck for the first hour there. I saw Bernz right away, and then I met Dannyboy, and he pointed me to SeanO, the marketing director at IT who's been helping support my site! From there I met a TON of players whose names I knew but whose faces I did not — Gopherfan, McCook, Rodney, Skipper, Moy, Miser, Mouth, and lots of other players, even Duffer Dan and Sobe!
After watching the action for a couple hours, Matt and I had to go out and play some GT for ourselves! We hit up a couple different bars during the evening, and then we came back to Side Pockets at night. When tourney play started to wind down, we got the chance to play with the pros! I played rounds with Dannyboy, Skipper, McCook and Rodney, staying till 1:30 in the morning!
Matt and I made it back over to Side Pockets around 11:00 the next day to watch some more action. We stayed till about 1:00 and then hit the road for Peoria! So, we didn't get to stay to see the winner, but we saw some incredible matches, especially Haas winning an extra-holes round over Feijo that was just incredible.
So, you'd think we'd be burnt out on Golden Tee after that long weekend right? No way! It just made us want to get out and practice all the things we saw from the pros! Here are several things I noticed the pros doing that I don't do:
1) Very smooth hits on the trackball. You never hear a palm crashing into the console! I also used to bruise my hand on the screen after a follow-through on a power shot, but these guys bend their elbows and have smooth follow-throughs that never make contact with the screen! I've since practiced that method and have improved a lot in that area!
2) Pull-backs on almost ALL shots. Some pros don't do this, but most do. I'd see a shot where I'd just thumb it forward, but these guys have such precise control of their pullbacks that they can pull back on about any shot and still get it to end up right by the hole! I'm sticking to thumbs for now, but it's easy to see the advantage these guys have there!
3) Deception! Since you're head-to-head against a guy, you'll see all kinds of crazy follow-throughs so that your opponent will have no idea how much angle you put on the shot! Of course, that's bad for observers, but works great for them!
4) Slow pullbacks. Since the game only reads your pullback up to the top of your backswing, why pull back any further? I still pull back kind of fast, but I think that helps me create the angle I want. These guys have great control of the slow pullback.
5) Sick putting and chipping skills! You almost never see a missed putt, and even most chips from around the green go right in! Again, almost ALL of these guys putt with their thumbs, which I don't do. I'm proud to say I'm a very good palm putter, so I'm not going to make the switch at this point. Still, you can see how these guys don't give up any strokes around the green!
6) New methods of attacking holes! Everyone has their plan of attack give the hole conditions, but I saw several things I never knew about before. Some of these guys save their secrets for these big tourneys and then bust them out in competition, and you could see how much that paid off!
7) Rituals! Whether it be wearing a glove or wiping your hands on your shirt after every shot, these guys made sure they weren't going to get a bad hit on the trackball!
To sum it all up, it's easy to see why these guys are the best. Practice and masterful command of the trackball lead to great scores, scores I don't know if I'll ever reach! Right away I was upset that I didn't enter the tourney, even if I was going to get waxed, because it was so much fun!
Hopefully I'll get to participate in a tourney experience soon, and I'll let you know how I fare!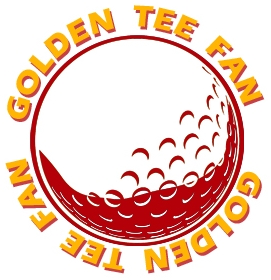 Golden Tee Fan is a Golden Tee addict from Chicago, IL, thirsty for tips and tricks!
Email this author | All posts by Golden Tee Fan