GoldenTeeFan takes on the Frozen Open
By
Golden Tee Fan
• Category:
Features
,
Miscellaneous
•
I arrived at Flounder's bar in the Lincoln Park area of downtown Chicago around 6:00 Friday night, and it was already hopping with Golden Tee action! I think there were 11 GT machines set up in the back, including 8 pedestals with the big, wide screens and stand-alone console. Those things are AWESOME — it was the first I'd seen of them. They took a bit to get used to — you become accustomed to your hand hitting the screen on a follow-through, but instead you almost fall over if you forget about that! Also, putting took a bit to get used to because of the games it plays on the eyes, but before long you don't want to play on anything else!
I got in a blind-draw doubles tourney that started that night and was paired with a guy named Scott who was really good. We won our first match against Jimmy Mac and Jopper, but then we ran up against Thor and another great player (can't remember his name), and they beat us in the next round. It was an alternate shot format, so there was a lot of pressure! But, it was also a lot of fun, and I held my own!
Oh, I also saw a guy ace Savannah #17 — he hit a half-strength 7-iron right at the hole, and he dunked it like it was a Bags game!
The next day I got there at 11:00 and we all played some warm-up games. I got to play a couple with Adam Kramer, the marketing guy at IT for Golden Tee, so that was cool! I also played with Brad Litz, a technical support guy for IT, and a few others along the way. Before the tourney starts, they do this thing called "Calcutta" — it's basically an auction bidding war for who you think will win the tournament. There are bids of over $100 for the top players, but I didn't even take the minimum $5 bid when my name was called — ha!
At around 2:00 or so, we started 2 games of qualifying. You get paired up and play a designated course with locked conditions, which means a card is swiped before you start and everyone has the exact same setup during play of that course. We started on Woodland and I came out pretty strong with a -18, but the next qualifying round was on Sunny and I only shot -10!
After everyone is done, they tally up the totals and rank you 1-52 (we had 52 guys in this tourney). Great shot points are tie-breakers. I ended up being ranked #36 with my -28. The cutoff was at -30, and the top qualifier (McCook shot -50)! I certainly should have been in the top 32, but hey, everyone has bad games, right?
So with the odd number of guys (20) in the "purple" bracket, I had a bye in the first round. Then I ended up having a bye in the second round because the dude left for some reason. So finally, I'm playing in the round of 8 against ANUBIS, a guy I can tell is certainly a bit better than I am. We play Sunny and it's close all the way, and I'm down -17 to -16 heading into the last hole. He puts it in the water on 18! I hit a good shot, hold the green, and tap in for eagle, while he pars, and I win by 1!
So now it's the final four and I have to play Baxter Segall, who flew in from North Carolina.  This guy is a GREAT player who shoots sick scores, so my odds were slim.  We end up playing on Black Hills, which both of us struggle with, but it ends up providing an opportunity as well since it's easy to lose strokes there and have blow-up holes.  He holes out on #1 for eagle (great), but I stay close until I have a stroke-limit hole by putting over the edge into the water twice on a par 3.  So now I'm down 6 going into the back 9.  I get it back to 4, and then Baxter has a stroke-limit hole where he does the same thing with putts over the edge!  All of a sudden we're tied.  He takes a 1-stroke lead into 18, but his tee shot trickles off the back into the water!  Again, I stick the green with a great shot, tap in for eagle, he makes par, and I win by 1!  We could play 10 times and I might win once against him, so that was very lucky and thrilling!
Now it's the final, and I'm feeling good against Brad Litz — I played with him earlier for fun, and we played on Woodland, which I usually shoot well on.  Well, I couldn't keep my momentum going, and he blew me out, winning by 8 strokes.  He birdied all 9 holes on the back 9 and never gave me a chance to get back in it!
SO, for my 2nd place showing in the "amateur" bracket, I won $70 and a nice heavy-duty pull-pack!  Other than winning that last match, I couldn't imagine the weekend going any better!  It turned out to be great that I didn't make the top 32, otherwise I'd have been blown out by one of the top pros!
So see — if I can make a run in the lower bracket, anyone can!  The purple bracket is great for guys who can't compete with the top pros, and I'd encourage anyone to play in one of these tourneys for the amazing experience!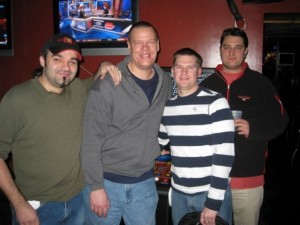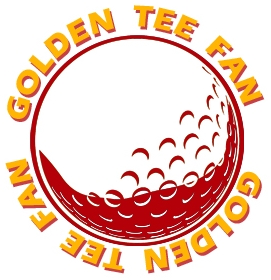 Golden Tee Fan is a Golden Tee addict from Chicago, IL, thirsty for tips and tricks!
Email this author | All posts by Golden Tee Fan