GTFan plays in the Chicago Summer Classic
By
Golden Tee Fan
• Category:
Features
,
Miscellaneous
•
Well, last weekend I was able to participate in my first Golden Tee tournament!  It was August 23 in Chicago, at the famous Flounder's bar in Lincoln Park, by Chicago.  Going into this tourney, I'd say my average was still only about -17.  I put up my share of -20s, but I can still have some blow-up holes and have some -14s too.
I arrived Friday evening around 8:00 and saw a handful of guys I recognized from February at the PCC tourney in St. Charles, MO.  0verfiend introduced me to everyone I hadn't met, including Graig Kinzler (Kinz), who set up this little tourney at this, his home bar.  Before long, Kinz invited me to play a game with him and Chris Litzinger (Litz).  These are 2 of the best players in the world that I'm playing with!  Litz won the 2007 Indy Open and has posted -30 or better on 2 of the 2008 courses, and Kinz has also posted a -30 this year but is also the reigning 2007 World Champion!  So, I'm a little overwhelmed but excited to get this opportunity!
I was pretty excited because I posted a -22 on Summit my first game, which was the best I've ever shot on that course!  It certainly helps when you get to hit third behind these guys all game!  I saw all kinds of sick shots during the couple rounds I spun with these guys — Kinz put a shot under a rock on Summit but somehow knew where he could hit it and still land on the frickin' green, and in the meantime, I watched Litz roll off 6 or 7 straight holes where he got GSPs for landing his approach within 5 feet.  Amazing.  These guys love playing each other because they are at such a high level, so I'm glad I got to play along for a while!
I also got to spin with Mouth, Who Dat, Jimmy Mac, and Somori among others before the tourney started on Saturday.  So I'm already having a great time.  Qualifying started on Saturday around 2:00, where we played each of the 5 courses.  I didn't do that great, posting scores about average for me.  But I did learn a whole lot, which I'll talk about in another post!
With 12 people in the tourney, the top 4 got a bye.  I probably qualified 12th, but maybe 11th (I know I was better than one guy there at least, ha).  That paired me with Erik (Strow) Strowbridge, who, as you can imagine, is another one of the world's top players from Minnesota.  We played Cypress, and this was the highlight of the tournament for me.  I was winning after 10 holes!  But, the back 9 is where the best players make up strokes on the amateurs, and that's what happened.  Strow took a 1-stroke lead over me going into the last hole, but he missed the green on 18.  It was a tough setup, and I couldn't land it either.  So that was it — my first bracket match was a close 1-stroke defeat, at -22 to -21!  Still, I was excited hanging that close!
Strow moved on to play Mouth, who is one of the most amazing players I've seen.  He takes the least time of anyone to size up his shot, but he's so damn good.  Anyway, Mouth had a 2-stroke lead going into 18 at Bayou.  Both guys laid up, but Mouth put his approach in the water!  That led to bogey, and Strow birdied to tie it up.  Then Strow went on to upset Mouth by winning the 9-hole playoff.
What that meant for me was that I got to play Mouth, who's from Naperville, next in the loser bracket.  Great.  We played Summit, and I was within 1 of him after 9 holes, but he blew me out on the back 9.  There was no way I was hanging with him.  He told me he was worried after 9 that I was hanging in, but I don't know how true that was.
So, that was it for me!  I knew I was going to get smoked, but I went for the experience, and I loved it.  Litz beat Kinz to win the tourney, with Strow 3rd and Mouth 4th.  So, I got a crappy draw, having to play the 3rd and 4th place guys, but I earned that crappy draw.  However, I'm going to take that experience and everything I learned to become a much better player in the long term!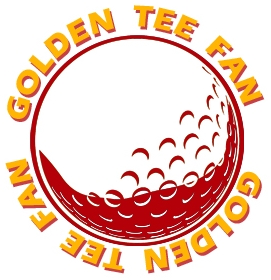 Golden Tee Fan is a Golden Tee addict from Chicago, IL, thirsty for tips and tricks!
Email this author | All posts by Golden Tee Fan