Is your trackball rolling straight?
By
Golden Tee Fan
• Category:
Miscellaneous
,
Using the track ball
•
If you're like me, you've had to put up with playing on a machine where the ball "pulls" to one side or the other.  So, if the ball pulls left, a normal shot straight forward will get pulled left by the flaw in the dirty trackball or rollers.  And then, to compensate, you have to think before EVERY SHOT to hit the ball forward slightly right of where you'd normally aim.
This also goes for pulling back also, as in this example, the ball would pull right on the pullback.  So, your mentality is to pull back slightly left of where you normally would, and shoot forward slightly right of where you normally would.
This is a pain in the ass, but in my area, the trackballs don't get a lot of attention from the vendors.  I try to avoid these machines, but I'd rather play a round using a slightly messed up trackball than play no round at all!
In extreme cases, it's easy to tell which way it's pulling just by rolling back and forward before you begin.  But for less noticeable cases, or when you're playing a different machine for the first time, use this test!
On the first tee, pull up the Options and go to Equipment Setup.  Go to the Buy Balls screen.  Now, position the cursor in the middle, dead gap between the first and second panes surrounding the golf ball details.  If you're hovering over one of the three panes, you'll see it highlighted, but when you move the cursor to the narrow line in between the panes, nothing will be highlighted.
Now, move the cursor to the top of this dead area, and slowly pull the trackball straight back.  If the cursor trails off to the right or the left, you'll know the trackball has a pull.  Do the same thing from the bottom, rolling the ball straight forward slowly, and you'll usually see the pull in the opposite direction going forward.
This test can also be used to determine how accurate you are when pulling straight back or pushing straight forward!  So, if you're having accuracy problems when shaping shots, go here and make sure your shots back to B or forward to 2 are indeed going where you want.
This was another great tip given to me by Juan Schwartz that you should be able to use to test the trackball on any machine you'll be using — good luck!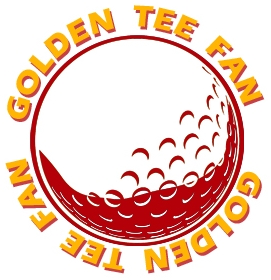 Golden Tee Fan is a Golden Tee addict from Chicago, IL, thirsty for tips and tricks!
Email this author | All posts by Golden Tee Fan