The Missouri Open from an Amateur's Perspective
By
Golden Tee Fan
• Category:
Features
,
Miscellaneous
•
Well I'm back from the 3rd official Golden Tee Tournament in which I participated! Following is a summary of how things shook down for me, and then I'll list off some new lessons learned from tournament play!
This event took place at Teachers Billiards, a sports bar/pool hall in the suburb of St. Peters, west of St. Louis. I think there were around 70 participants, and 15 GT machines were set up for us to use. The action kicked off with a doubles tournament that started just after 8:00 that night. I teamed up with Adam Kramer from IT, but with a single-elimination format, we were out after the first round! We played a couple of studs in Gervais and Gibby, and they didn't have much problem taking us down in this alternate shot match. I messed up a couple shots on the front 9 at Grand Savannah, and we were not able to recover!
The rest of Friday night involved spinning games for fun with JACEN SOLO, AKA PEEPS, and his younger (bigger) brother, among others! Friday night was great for having some drinks and playing for fun.
I showed up early Saturday to play a couple games before the qualifying matches started around 1:00. The three qualifying courses were Grand Savannah, Sunny Wood, and Black Hills. Everyone played all 3 games with the same group on the same machine, which can be good and bad! My group included The Mouth and Billy Mac. I had an awful time in qualifying, shooting really poorly on every course. I only went -11, -13, and -12, well below my normal average of around -17 or so. There will be more on this in the lessons learned article to follow!
Those scores put me in the bottom of the pack for the Purple Bracket, where everyone not in the top 32 was placed. I played a guy named Glen (GB) from Denver, and I don't even want to talk about our match. We both stunk up Black Hills, but Glen had a couple putts dive over the edge on 18, allowing me to squeak by.
My next match was against John (U. City), a local guy who lived only 10 miles away. I shot really well and had by far the most fun with this match. We played Bonnie and matched each other stroke for stroke going into 18. Even then, we both missed an eagle putt that left us deadlocked at -24 after 18 holes! The tie-breaker was sudden death on the back 9, and it didn't last long. I backspun my approach off the green and missed my chip, giving John the win on the first sudden-death hole! Still, that match was exciting and a lot of fun.
That ended my run in the tournament, and the rest of the night was dedicated to playing more founds for fun. From throwing down Jager bombs to watching Mouth put on a waitress's short skirt to listening to Gervais belt out Whitney Houston's "I Will Always Love You" during karaoke, it was a wild time!
The main bracket kicked off Sunday, but I had to head back to Peoria. It was a fantastic time as usual, and be sure to check out my "Lessons Learned" article to get more tips on tournament play!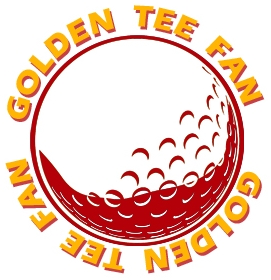 Golden Tee Fan is a Golden Tee addict from Chicago, IL, thirsty for tips and tricks!
Email this author | All posts by Golden Tee Fan