The Missouri Open – Lessons Learned
By
Golden Tee Fan
• Category:
Features
,
Miscellaneous
•
With this being the 3rd tourney in which I've participated, I should know better than to make some of the mistakes that I did. In this post I'll break those down and give you the advice so that you may be able to avoid some of them when you get into a tournament!
1) Get there early!
If you're arriving on Friday night, this might not be possible; when you get to the bar, you'll probably see action on all the Golden Tee machines already. That's okay – walk around and look for machines that could use an extra player where that group is wrapping up their current round. Most guys would be more than happy to invite you in for the next round!
On Saturday/Sunday, get there before the bar normally opens. With the tournament action going on, the doors will probably open early, and you can snag an open machine right away to practice before the tourney games start.
2) Play safe early on
You're going to be nervous when those qualifying rounds start, so make things easier on yourself by playing safe and draining a couple putts. Before too long, you should fall into the flow of things.
3) Play at your own pace
Most of the pros play incredibly fast, and hitting 'Quick Shot' after every shot makes things move even faster! It's easy to get caught up in the speed of play, and you may feel pressured into playing faster than you'd like. Try to maintain a comfort level by taking your time before each shot, especially putts!
4) Watch what the pros do…
You'll be teeing off last in your group for most of the round, which gives you the advantage of seeing how the other guys are attacking each hole. This can help you make the right decision if you may have otherwise been unsure. Also, if you see a shot missed long, short, left or right, it may be a clue that you want to overcompensate a bit to avoid the same mistake.
5) But don't watch what the pros do
If you're trying to pay attention to how hard the shot was hit or the exact angle of the shot, forget about it. Not only do some of these guys disguise the angle on their shots, but they strike the ball so smoothly that the power of the shot is really deceptive as well. No one knows better than you how the ball behaves based on the angle/speed of your shot, so trust your instincts over what you think you just saw!
6) Stick to your game
So you just saw a pro thread the needle between some stone pillars on Black Hills. Does that mean you have to try the same thing? Of course not. If you're not comfortable trying the same thing, it's much better to play safe and preserve a birdie rather than shooting a high-risk, low-reward shot for a chance at eagle. The same goes for chip shots around the green. The pros are great at holing out chips around the hole with a lower-lofted club, but if you'd rather finesse your lob wedge, then do it! That's your game, and it keeps you out of any further trouble. Finally, if you can thumb a shot and get the same results as a pro who pulls the ball back, don't be embarrassed about it!
7) Don't miss to the dangerous side
It's easy to get too aggressive on an approach shot and miss the green altogether. I've made a habit of looking left, right, long and short to see where the trouble lies. A good rule of thumb is to try to place the ball on the green such that you put the flag between the trouble and your ball. For example, this means missing long, in the middle of the green, if the pin is on the front of the green.
8 ) Never give up
Four of my last five head-to-head matches went down to the 18th hole, and I won 3 of them when I was trailing after 17! The best example was during my first match in the Purple Bracket, where I was down by 2 and hit my drive in the water on Black Hills 18. A couple roll-off putts by my opponent later, I had a 1-stroke victory. Anything can, and does, happen!
9) Have fun!
If you fail to follow this advice, then you really have wasted your money and time. You're surrounded by a bunch of great Golden Tee players who always know how to have fun, so follow suit and you'll fit right in, no matter what your score!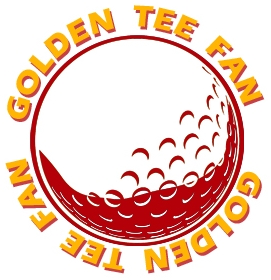 Golden Tee Fan is a Golden Tee addict from Chicago, IL, thirsty for tips and tricks!
Email this author | All posts by Golden Tee Fan