Player Bio — Andy Fox
By
Golden Tee Fan
• Category:
Player Bios
•
Andy Fox (AKA Luxury Tax, Flying Train, Non*Factor) hails from Apple Valley, MN — one of the most diluted Golden Tee player cities in the country!  He plays most of his games at Majors sports cafe.
As of 7/15/09, his averages on the 2009 courses are as follows, which also gives you an idea to how the difficulty of the courses ranks!
23.77 avg on 2009 courses
GS – 21.99 (this month 22.69)
WF – 21.48 (this month 22.83)
BH – 19.11  (this month 18.38)
SW – 23.59  (this month 24.03)
BM – 25.47  (this month 26.55)
Andy thinks yearly averages on a certain course are very accurate because when 2009
first came out, everyone was shooting crappy scores while they were learning the
courses.  He thinks the previous month's averages are more accurate, which makes sense!
Andy started playing in mid 2006, which is not that long ago, but he averages around 200 games per week!  When you put up scores like that, you're certainly winning money in prize play, so why not play as much as you can!
Still, Andy does not consider himself a great player, even if we do.  He thinks he's good, but a long ways from great.  Andy thinks he started to get pretty good when he was able to hang out with the great players from time to time (TJ, Strow, Thor, G'sus and Scoville).  Those guys all taught him a ton of stuff.
One of his proudest accomplishments is that he's the only person ever to shoot -31 on Sunny Wood!  He's also one of only two people to shoot -30 on that course, with Jeff "Lemon Aids" Lannen being the other, who Andy definitely considers a GREAT player!
Among his most memorable Golden Tee moments was the  Chicago Tavern 33 tournament.  It was his 2nd live tournament ever, and he beat Dannyboy, Kinz and McCook all in a row!  Then he shot a 1-better on Rustic and lost to
Matt Estepp's 2-better, followed by his most memorable meltdown ever — up 3 strokes
on Kinz going into Palm Springs 18….he makes par, while Andy stroke limits to lose by 1.
The best tip Andy can give to help amateurs get better is to play with better players….AND LISTEN TO THEM! Also, he thinks everyone should learn to thumb shots.  I agree that it's definitely an important aspect of distance control that everyone should practice.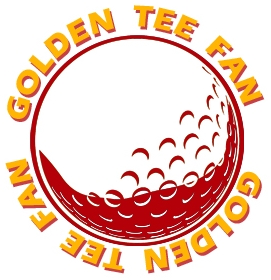 Golden Tee Fan is a Golden Tee addict from Chicago, IL, thirsty for tips and tricks!
Email this author | All posts by Golden Tee Fan