Player Bio — Chisolm Woodson
By
Golden Tee Fan
• Category:
Player Bios
•
Our next bio features Chisolm "Daddy Like!" Woodson, who plays in Denver, CO.  Chisolm plays most often at Rack 'Em Billiards and Sports, and also at Table Steaks East.  Just recently, Chisolm headed up a big tournament there in Denver, so he's gotten his name around the Golden Tee community quite well!
Chisolm has been averaging on the 2009 courses, in order, 22/21/20/22/24, for about a +23 handicap.  He doesn't play Bonnie or Black Hills too often though.
Chisolm has been playing Golden Tee for quite a long time, going all the way back to 1995!  He remembers when it would take a foursome 3 1/2 hours to play a round (no exaggeration!) because no one really knew what they were doing!  He was living in Vail at the time, and there was a group of people that were really intrigued by it, but had never really played it.  By the time Fore! came out, he was still into it, but only for a bit…then he stopped playing completely until Live came out, which really rejuvenated a lot of players!
Today, Chisolm plays roughly 50 games a week.  He says he still has a lot to learn, claiming he is not great by any means (although with those averages, I beg to differ)… but, as far as his progression, he can think back to a couple moments when he knew he was getting pretty good.  One of those moments was when he went to Vegas the first time for regionals.  Multi-carding was allowed back then, and he was playing two cards to try to get in the top 16 qualifying towards a chance at a Team USA spot.  He didn't know anyone by face, except for people who he had met in PGA Nationals and the other Colorado players.  He qualified 16th and had to play Jeff Vordahl as the #1 seed.  The course drawn was Whispering Valley, causing Chisolm to whisper profanities to himself, because it was widely known that Jeff and Dannyboy were the experts on this course!  Thinking he had no chance, he watched Jeff put two balls in the water on a par 3 island hole on the back 9, and he won the round!  Then, in the next round, he and Southpa went to extra holes, and Southpa won when Chisolm missed a 40 footer on the 4th.  Southpa went on to win the Team USA spot, and while Chisolm knew he wasn't one of the best players there, he did know that he could compete with anyone at any given time!  This gave him a lot of confidence to keep working on his game to get even better.
So that he did, playing a lot, but more importantly learning and studying things that work and don't work.  He knows so many players that will play with him, watch what he does, and then not try it!  They think their style is the only way, and then they can't understand why they keep shooting -10.  Chisolm says he has a very analytical brain, so he is always watching all shots…even if you're playing with a +6 handicap, you never know what you will learn.
Chisolm still gets excited at the times he finishes first in a Live tourney featuring 3 or more guys that he knows he won't beat on a regular basis (such as getting first on Grand Savannah in the same tourney as Litz, Kinz and Haas).  Also, he got his first -30 a couple months ago, which was awesome!  He was just playing a round with some buddies who don't play all that much before a softball game, and he really wasn't paying much attention to his score until hole 16, where he realized what could potentially happen… funny how that works!
The most memorable moment for Chisolm was hosting the Denver Open last month with his girlfriend Amanda. That was so much fun, and he already can't wait until next year.  To him, that's what this game is all about — meeting great new people, hanging with incredible friends you already know, everyone sharing their passions, and the competition of it all — you can't beat it!
How will you know Chisolm when you see him?  Well he's short, he wears a glove, and he's devastatingly handsome — book it!
And finally, for those of us trying to improve, Chisolm reiterates the importance of playing with someone better than you to learn off them.  Specifically, the first thing he tells a complete novice is hit your putts firm.  This is good advice — we all see too many guys trying to baby a putt in and they end up 3-putting instead of ramming it home!  Oh, and there is a Golden Tee god — obey him!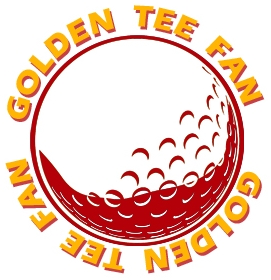 Golden Tee Fan is a Golden Tee addict from Chicago, IL, thirsty for tips and tricks!
Email this author | All posts by Golden Tee Fan