Player Bio — Don N.
By
Golden Tee Fan
• Category:
Player Bios
•
Before we continue with the guys who average well below -20, let's take a step back and learn about our friend Don, who frequents the LTG Forum and was among the first to provide me with his Golden Tee background!  Like me, Don loves the game and yearns to get better but can only afford to play a handful of games per week.
Don is from just north of Memphis, TN — a new place called Ponderosa.  It's a very nice place with great people!  He's been averaging -8 for the year, but his average over the last month is -11, so he's on his way up!
Don has been playing since 2002 or so and has amassed 350 rounds during that time.  His playing frequency changes week to week, but he probably average 5 games a week now.  For most people at this skill level, that's about all you can afford!  Don realizes he hasn't yet turned the corner to becoming a great player — instead, he has seen the corner and gotten hit with a baseball bat when he tried to peek around it.
Regardless, Don agrees that playing with people that know more than you is the best way to improve.  Knowledge is power!  Playing round after round can teach you how to successfully make all the different types of shots that this game demands.
Don's best accomplishments to this point include breaking -20 for the first time (even though it was on Bonnie Moor), finishing an entire round with birdies or better on each hole, and breaking the top 10 in a Prize-Play game!  Those are certainly the milestones that keep you coming back for more!
Don's most memorable Golden Tee moment was going to Indy for the tournament this year.  He had a blast, learned a lot, met a lot of great people, shot a -22 on BM, and shot a -18 on GS to boot!  Returning from experiences like that really give you a boost and make you want to play even more.
Don still has the inconsistencies in his game that most people at this level experience, pointing out how in one night he can hit -18 on GS, -20 on BM, -15 on SW, and -14 on WF, and the next night his best game non-BM is -8.  But hey, you know the potential is there, so that's why you keep coming back!
Here's Don's best advice to amateurs still looking to improve:
Play Glory using All Random Tees until you are consistently hitting low to mid teens. If you really care about getting the dollar back, then wait until you are shooting in the mid-teens to make the jump to Live play.
Take your time and aim your shots up. On short putts, just put the ball in the hole, don't try to use finesse to play curves on short putts. Just hit the ball with force at the cup. It may take a while to learn just how hard but it will pay off in the long run.
When putting straight up/down hill, look right and left. Sometimes it will say one right/left when you look one direction. This means the putt is not actually straight, but will move as if the green is .5 angle in that direction.
Find people that are better than you and just watch them play. You will not be watching how they hit all of their shots necessarily. You want to see how they play each hole. Learning where the shortcuts and safe plays are is a huge part of it. Learning when to use backspin/roll/nothing is also something you can get a little better feel from watching someone that seems to know what they are doing.
Read all of the info on Golden Tee Fan's site. He has a ton of it, and it is all helpful. Reading the forums is also a help, as from time to time people will talk about different shots on different holes that you may not have known about. It has happened at least 4 times for me so far.
Thanks a ton to Don for sharing his perspective on the game and what he's learned over the course of his career!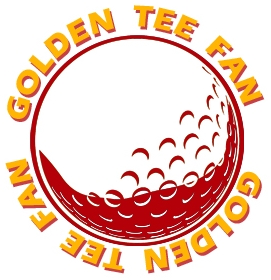 Golden Tee Fan is a Golden Tee addict from Chicago, IL, thirsty for tips and tricks!
Email this author | All posts by Golden Tee Fan