Player Bio — Kevin Lindsay
By
Golden Tee Fan
• Category:
Player Bios
•
Our next bio focuses on the young guy in the group — 18-year-old Kevin Lindsay from Oak Lawn, IL.  Kevin plays as either !* K Lindsay *! or Peoples Champ! at B.J. McMahon's, and you can find him on the ITS Games Forum as deadmantaker4.  Amazingly, Kevin has been playing Golden Tee for about 12 years!  He started playing on the 1997 machine at the local restaurant when he was 5 or 6 years old, and he's been with it ever since.  Kevin is off to college at Monmouth this fall, where he'll take his game with him and hopefully get more new friends hooked on Golden Tee!
Up until last October or so, Kevin was only playing a few games a month, but since then (which is, not coincidentally, when 2009 game out), he's been averaging around 10 games a week.  On Bonnie Moor, he's averaging around -18, and on Black Hills, he averages around -9, a not-uncommon differential for those courses.  On the other 3, he averages around -13, so he's good enough to crack the top 20 in prize play when he has a good round.
Kevin doesn't call himself a great player yet, but come on, he's only 18!  He says he hopes to raise his game to the level of Steve Sobe in the future, still longing to put up a -30 some day :).  He hasn't played in any big tournaments yet, but he does think of himself as one of the youngest players who can put up good scores, and I'm sure he smokes his friends!
The most memorable moments Kevin has are the time he won Hole-N-Wins, especially his first win of $150 back on the 2007 machine!  Every time he plays Golden Tee Live, it's a moment, whether he's on fire or wanting to punch the screen until he passes out — he's definitely got the passion that keeps him coming back for more.  As a 13-year-old, he also got a kick out of being able to take down some of the better players when LIVE first came out.
The best advice that this teenager can pass along is to watch the players that are better then you, even if
they only are slightly better.  Even the players you beat can have certain tricks that you can use, so pay attention and expand the scope of your skills!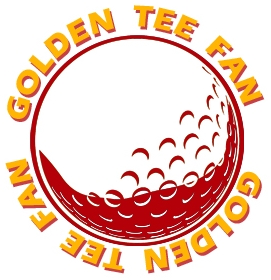 Golden Tee Fan is a Golden Tee addict from Chicago, IL, thirsty for tips and tricks!
Email this author | All posts by Golden Tee Fan