Player Bio — Nate Knuth
By
Golden Tee Fan
• Category:
Player Bios
•
Our next bio features Nate "Phuqenay!" Knuth, who plays out of Sioux Falls, South Dakota. He splits time there between The Gold Rush and Boston's Pizza.
Nate has been playing Golden Tee since FORE! 2003. On the 2009 courses, he's been averaging -15.02, BUT, he's played more rounds on Black Hills than any other course (naturally at a lower average). Good for him having the courage to man up and enjoy that beautiful but very challenging course!
Unfortunately, where Nate lives in South Dakota, they do not offer Prize Play. That's tough, because Nate can't win money back in prize contests. Because of that, the game can get expensive quickly, and he can only afford to play 20-25 games per week. I still think that's quite a bit of dedication to the game knowing he's not getting prize money back! Nate figures that he has probably played more Glory games than most people who frequent the message boards and go to tournaments.
Nate doesn't consider himself a great player, but he did take note when people started showing up at the bars where he played to asked questions and learn shots. They had seen his local scores and were impressed, so that started to give him the confidence to know that he was certainly a good player! Nate credits playing as often as you can to keep up those good scores. He knows, like most of us, that if you take too much time off from the game, you lose your touch around the green with chip shots and breaking putts.
When asked what Golden Tee accomplishments he's most proud of, Nate mentioned how he finished in the top half of the World Championships in Vegas in 2008 (a couple of spots ahead of Skipper, LOL). He has also won his local championship 3 times running!
Nate has a couple other nice Golden Tee memories that he cherishes. First, he was the first player to hit a hole in one in the morning session in Vegas in 2007, which earned him a nice pair of sunglasses! He also recalls how he won the first local championship with 17 birdies and 1 tap-in eagle on Palm Springs for a -19.
If this advice hasn't been pounded into your head yet, you're going to hear it again and again — Nate mentions how the first time he played with a 'pro' was when "Piano" Steve Dakin came to town for a little tournament that they had. He probably played 50 rounds with him that weekend, asking thousands of questions like "why did you do that," "how did you do that," "when should you do this," etc. He went from a
-12 player to a -17 player in one week. If you can find someone who is good (and has a TON of
patience, LOL), learn everything you possibly can. Also, don't be afraid to 'donate' some money to tournaments, because the experience will pay off in the long run, no doubt!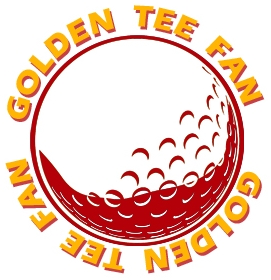 Golden Tee Fan is a Golden Tee addict from Chicago, IL, thirsty for tips and tricks!
Email this author | All posts by Golden Tee Fan