Downhill putts
By
Golden Tee Fan
• Category:
Putting
•
These can be downright scary. Sometimes if you miss a downhill putt in Golden Tee, your ball will carry all the way off the green, and sometimes even into sand or the water! You want to putt with confidence, but if you miss, you surely want to have a putt back up the hill at the hole.
Contrary to uphill putts, the side slope on downhill putts affects the ball less. So, the best tip here is if you have a 2-degree slope to the right on a downhill putt, you can play it as if the slope were only 1-degree (I'd play about half as much slope as I'd play the same shot on level ground).
As mentioned above, the worst thing that can happen is you putting the ball all the way off the green. I don't like to hit downhill putts very hard at all, and I don't recommend it either – I try to feel out the side slope and finesse the ball in the hole. I might miss an extra putt per round by playing soft, but I could also save several strokes by keeping it on the green for the return putt back uphill, if needed.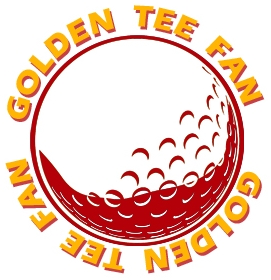 Golden Tee Fan is a Golden Tee addict from Chicago, IL, thirsty for tips and tricks!
Email this author | All posts by Golden Tee Fan