Lag putts
By
Golden Tee Fan
• Category:
Putting
•
Sometimes you'll have a putt in Golden Tee that's like 8 degrees down and 9 degrees left from 30 feet away. These are a nightmare! I'm ashamed to admit it, but sometimes I accept defeat before I've even attempted a horrible putt like this one. You can quickly find yourself in a vicious cycle of difficult putts, down and uphill against ferocious slope, that you can't make, and all of a sudden you're taking 5 putts to get it in the hole! It can totally ruin your round.
If I suspect that I'm being pulled into one of these traps, my tip is to try a lag putt just to try get the ball closer to the hole on a better, makable slope. In the example above, I'll rotate my golfer to the right and barely tap the ball forwards. The slope will bring the ball down closer to the hole and I should be left with a putt I can make. It's not glamorous, but I've salvaged a 2-putt instead of endangering my entire round.
Another time you may need a lag putt is if you're on the green, but there's fringe between your ball and the hole. Golden Tee doesn't allow you to chip when you're on the green, so all you can do is putt around the fringe and set up your next putt.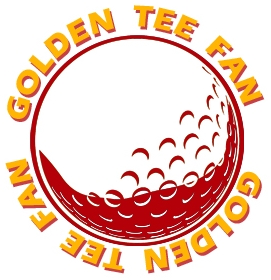 Golden Tee Fan is a Golden Tee addict from Chicago, IL, thirsty for tips and tricks!
Email this author | All posts by Golden Tee Fan