Putting technique
By
Golden Tee Fan
• Category:
Putting
•
Palm or thumbs?
Putting style in Golden Tee is up to personal preference, but the majority of good players putt with their thumbs. I used my palm for a long time for putts and did pretty well with it, but I recently switched to thumbs, and I'm starting to see the benefits. Thumbs seem to allow you to putt more accurately than sliding your palm up towards the target, but again, personal preference prevails!
If you're just starting out with thumbs putting, a good tip is to try to notice where your putts end up on straight shots with no slope. When I started with thumbs, I seemed to be pushing my straight putts to the right. I picked up on that pretty quickly and was able to compensate by aiming at the left edge of the cup. If your thumbs putts aren't going straight, adjust your follow-through so that the ball goes where you think you are aiming!
Where to look?
Another area that most people don't think about is where your eyes are looking on your follow-through with your putt. Are you looking at the hole on the screen? If so, you may not notice if your follow-through is off-track. Are you looking down at your thumbs as you shoot? If so, you may miss the result of your putt on the screen. I try to pay attention to both, but as I eventually got more consistent, my eyes usually move up to the screen after I execute my putt with my thumbs.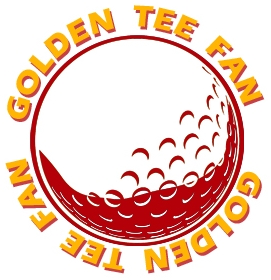 Golden Tee Fan is a Golden Tee addict from Chicago, IL, thirsty for tips and tricks!
Email this author | All posts by Golden Tee Fan